We are undertaking some significant work on CPD Now, with a project to enhance the platform and accreditation schemes, and to make everything more user-friendly for members. As part of Project Smart and requests from members, we are reviewing the processes and requirements of the accreditation scheme for assistant practitioners. Therefore, we are putting on hold applications for assistant practitioner accreditation and re-accreditation until the new process is in place. All current accredited assistant practitioners are being contacted by email to extend their current re-accreditation date by one year.
The College of Radiographers has developed a process of accreditation for those individuals practising as Assistant Practitioners in clinical (diagnostic) imaging, radiotherapy, breast screening and other areas of practice, including the Abdominal Aortic Aneurysm (AAA) screening programme.
The Society and College of Radiographers, in upholding its duty to the public, has implemented a Public Voluntary Register of Assistant Practitioners (PVRAP). Assistant practitioners can apply for accreditation of their scope of practice on the basis of having successfully completed a College of Radiographers (CoR) approved course of education and training or by the submission of CPD evidence via CPD Now. The PVRAP, along with the accreditation process, has been developed to ensure that those engaged in clinical imaging or radiotherapy have been appropriately educated and trained for their role.
Why should I apply for accreditation?
It is important that your qualifications, knowledge, experience and practical skills are recognised by colleagues and service users. There is growing emphasis on the need for healthcare practitioners to have clear evidence of their skills and competence. Accreditation by the professional body can provide this assurance.
Application process
Applications for accreditation as an assistant practitioner can be made through CPD Now. Accreditation lasts for two years. There are two methods of initial accreditation; which route you use depends on the assistant practitioner programme or qualification you have undertaken.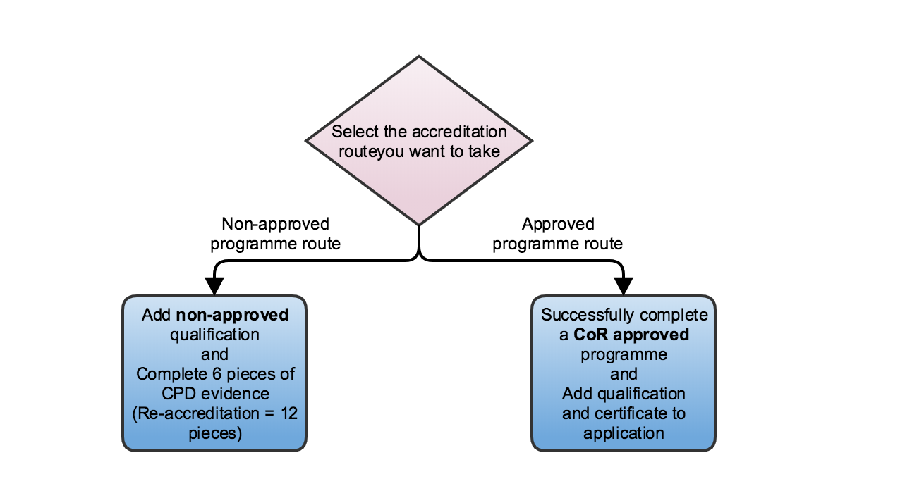 CPD Now and the Guidance for Applicants e-book (see document downloads further down) will guide you through the process. CPD Now contains a list of all College of Radiographers approved courses. If you are still unsure whether or not your course is approved, please contact the education provider.
How applications are assessed
Applications will be verified by two attestors chosen by the applicant who will confirm that you are working according to your scope of practice. See 'Assistant Practitioner Accreditation: Guidance for Applicants' about choosing your attestors. The final application is then assessed by a CoR assessor, overseen by the Approval and Accreditation Board and College of Trustees.
Re-accreditation
In order to be re-accredited, you must complete 12 pieces of CPD evidence within CPD Now over the course of the two years. This evidence must be related to all of your scope of practice. You must also re-confirm your scope of practice. Two attestors must review the application and comment on it; they need not be the same attestors used in your initial application.
The Society and College of Radiographers must be informed of any changes to your assistant practitioner scope of practice at the time of the change. If the scope of practice changes then the applicant must provide evidence to support the change. If we are not informed of changes when they occur you may not be covered by our professional indemnity insurance. Please contact the College of Radiographers if you are unsure what further evidence you need to provide–[email protected]
Current members of the Society and College of Radiographers
There is no accreditation fee for members of the Society and College of Radiographers. Accreditation, CPD Now and support through the accreditation process are provided as a benefit of membership.
The professional indemnity insurance arrangements for radiographic assistants are not sufficient to cover the range of practice and clinical responsibilities of assistant practitioners.
Considering joining the Society and College of Radiographers?
If you join the Society and College of Radiographers you will have to achieve accreditation before you can be given accredited assistant practitioner membership status. You will join as a 'radiographic assistant' until you achieve accreditation.
You can find information about joining the Society and College of Radiographers here.
Accreditation fee – Non-members only
As long as you are a member of the Society and College of Radiographers access to CPD Now and accreditation is included in your membership fee. If you are not a member and do not wish to join then you need to pay a fee. You will then get access to CPD Now, which facilitates accreditation and re-accreditation only.
The fee is £130 per year, payable two years in advance (£260). This is more than the cost of two years' membership to the SoR, which can of course be paid monthly by direct debit.
The accreditation fee can be paid via our online shop.
You will not be entitled to any other membership benefits and you will not be covered by professional indemnity insurance. You can find information about joining the Society and College of Radiographers here.