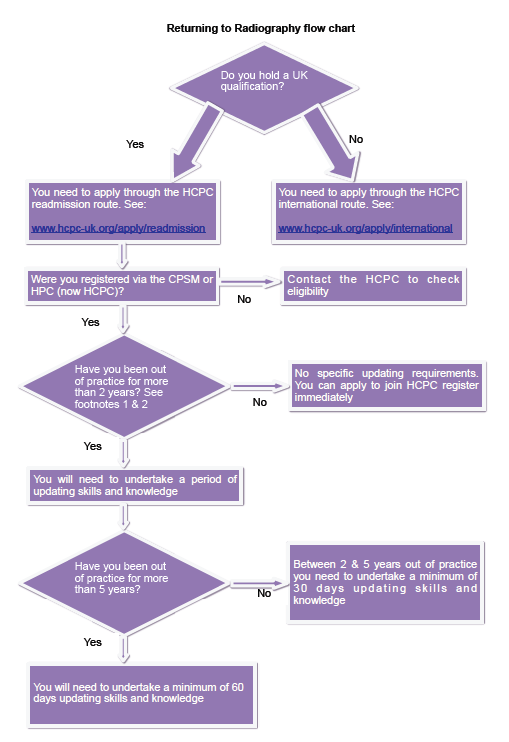 Footnotes
Footnote 1
If you have been off the HCPC register but have been working in a related role, eg, PACS manager, systems specialist, you may be able to register without undertaking a period of updating skills and knowledge. Contact the registrations department at the HCPC.
Footnote 2
If you hold a UK qualification but have been practicing overseas, you can apply for readmission without undertaking a period of updating skills and knowledge. Contact the registrations department at the HCPC.
Returning to practice ...
If you have worked as a radiographer in the past and were registered with The Health and Care Professions Council (HCPC). it should be possible for you to come back to the profession after a break. Experience has shown that having a good grounding after qualification and before taking a break makes it easier to return, however even those with less or even no experience are able to enter the register with the right support
The profession benefits greatly from the input of mature returners who bring new skills, qualities and experience into the workplace.
Advice for returnees
1. Read all the information available on HCPC websitefor returners, including the format for submitting evidence. Ensure you have understood what is required.
If not, ask the HCPC or the responsible SoR Professional Officer
2. Create your 'learning plan'. Use the HCPC standards of proficiency (Radiographers) to identify gaps in knowledge and areas that will require revision.
3. Check that you understand and are able to comply with all other HCPC requirements and standards.
4. Contact SoR membershipservices to initiate 3 months free membership for access to member only areas and all other member benefits, or ring 020 7740 7200.
5. Use the SoR website for useful links and up to date information on return to practice and radiography in general. See Period Of Updating Skills And Knowledge page
6. Find a clinical department to supervise your clinical practice. Use your contacts or find a hospital. Don't forget that private providers are often able to provide placements. Try to make a personal call rather than via e-mail.
7. Organise a contract/formal agreement with the supervising department. This ensures that the employer accepts vicarious liability for you during your time on their premises and expectations on both sides are clearly understood. .
e.g:
i. honorary contract
ii. paid contract
iii. volunteers contract or
iv. letter detailing the conditions
8. Complete any pre employment requirements
e.g:
i. Providing evidence of identification
ii. Providing personal references
iii. Providing a Disclosure and Barring certificate
iv. Undertaking occupational health assessment
v. Completing elements of mandatory training
9. Clarify the support being offered and identify your key contacts. Try to have a documented learning agreement based on your own needs assessment.
10. Seek a named individual as a mentor and focus for communication.
11. Be prepared to listen to and reflect upon feedback! Keep accurate records of your supervised time and practice undertaken/observed.
12. Complete your plan to meet the required standards
'It is your responsibility to make sure that you meet the appropriate requirements and can practise safely and effectively within your scope of practice, in line with HCPC standards. The updating you need to complete will be individual to you.
The activities you carry out to update your knowledge and skills will depend on: – the area in which you plan to work when you begin practising again; – your prior experience; – any relevant skills you gained whilst out of practice; and – any relevant developments in your profession during the time when you were out of practice. Please refer to the HCPC return to practice guidance booklet.
13. Build some flexibility into the supervised practice period. It may take longer than the minimum period suggested to regain confidence.
14. Create relevant portfolios to record your clinical experience and your academic studies.
15. At end of the minimum period review your progress and assess whether you meet HCPC standards, then either complete the application forms and send to HCPC or review your learning plan to close remaining gaps.
16. Start work!
Advice for Employers
1. Welcome contact from returnees; they are potential new staff!
2. Consider active recruitment of returnees
e.g.
a. Display posters in departments or local area
b. Include reference to return to practice radiographers in job adverts
c. Advertise in local press
3. Devise a process for managing return to practice enquiries and ensure all staff are aware of this
e.g.
a. Have a single point of contact for all queries and promote this on your website
b. Have clear criteria to ensure all potential returnees have equality of access to return to practice support
c. Identify an individual to manage returnees and support them in understanding the HCPC requirements for a returnee
4. a. Identify the type of contract/agreement to be offered and any other HR requirements including indicative timescales
e.g.
i. Honorary contract,
ii. Volunteers contract
iii. Substantive/temporary paid contract (clear endpoint should HCPC registration not be achieved).
iv. Letter of agreement
v. Requirements for evidence of identification,
vi. Requirements for personal references
vii. Requirement for a Disclosure and Barring certificate.
viii. Requirements of any occupational health assessments/declarations
ix. Requirements for any mandatory training
x. Uniform policy or dress code
b. Arrange access to IT resources e.g. to access e-learning for health modules, mandatory training or library resources
c. Utilise practice educators for advice and support. It is worth looking outside of radiography to seek support from the broader employers education and training Department
d. Identifying a mentor for each returnee and a line manager for day-to-day support
e. Develop a framework/timetable to support the returnee and your staff
f. Document for the returnee what you can provide, any limitations, end points, feedback processes etc
g. Identify local support available
e.g.
i. local education committee/funds
ii. other professions RTP sessions
iii. practice educators
iv. mandatory/optional training courses etc
h. Celebrate and share your successes with your employer and via Synergy News or as a case study on the SoR website
5. See SoR News page for any current recruitment campaigns or other support.
Returners seeking jobs
In the short term, you will probably be competing for jobs with newly qualified radiographers.
Remember returners have a lot to offer!
Returning radiographers very often bring other skills and qualities to the department. You may have gained experience in a different working environment, ie, in paid employment, as a volunteer or during a career break, perhaps to look after children. You would return with the skills gained through your experience. Returning radiographers tend to have a maturity which is valuable in the workforce and, once back in employment, they tend to stay and be a valuable and flexible member of staff. You will need to stress that you have these very useful transferable skills; communication, management, logistical skills which come with a certain maturity and life experience.
DO NOT PUT YOURSELF DOWN!!
Emphasise all the extra knowledge and skills that you would offer the imaging or radiotherapy department. Utilise Job Hunting and NHS Jobs websites.