Imaging and Oncology is an annual title published to coincide with the United Kingdom Imaging and Oncology Congress (UKIO).
The 2020 edition has been released for UKIO Online.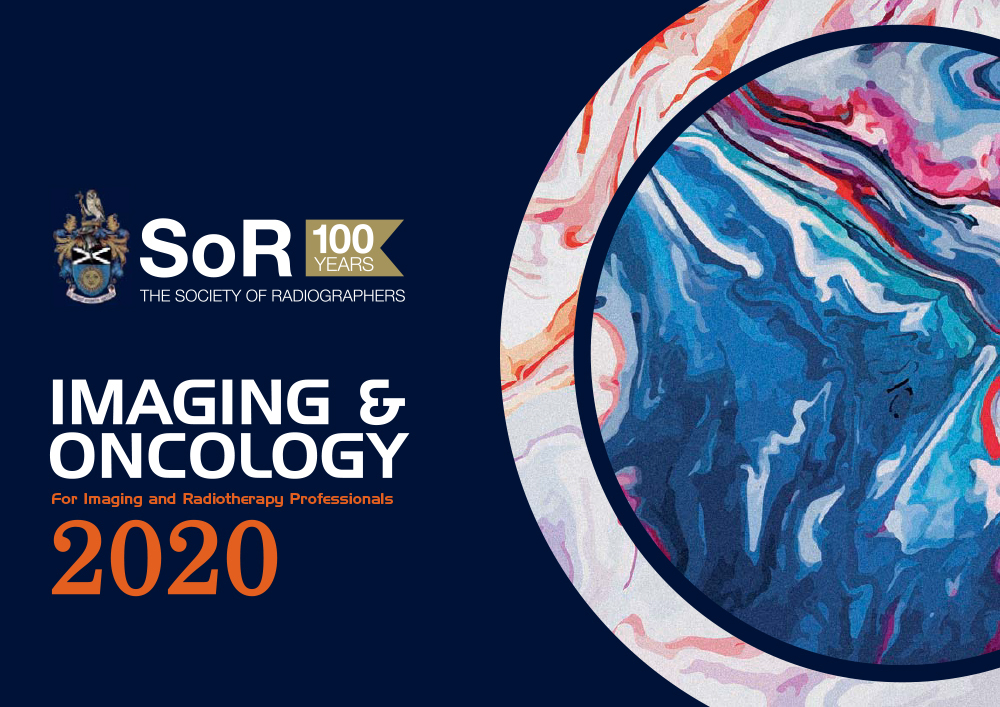 The publication's remit is summed-up in the introduction to the first issue: "The authors were invited to write not because they have the power to peer into a crystal ball and divine our futures, but because they have the abilities to lead and anticipate. The 'blue sky' speculation in the following pages will make you think. Some will infuriate. You will find yourself nodding in agreement and shaking your head in disbelief, maybe both at the same time."
You can download a free pdf copy of the current and previous issues of Imaging & Oncology below.
The current issue includes the following articles:
Consultant Radiographers in the United Kingdom – The Society
and College of Radiographers Consultant Radiographers
Advisory Group (CRAG) Position Paper
Dr Yat Tsang, Sue Williams, Heather Nisbet, Laurence Skermer,
Sairanne Wickers, Dr Jonathan McConnell
Imaging Networks - A New Model for Service Delivery
Fiona Thow, Professor Erika Denton, Andy Howlett
An Exploration of Advanced Clinical Practice (ACP) in Therapeutic Radiography: A Qualitative Inquiry
Dr Ricardo Khine, Dr Adéle Steward-Lord, Helen Clements, Spencer Goodman
The Needs of Lesbian Gay and Bisexual People Affected by Cancer
Gareth Hill
First Steps into Practice: The Value of Preceptorship
Dr Amanda Martin, Emma Dodd
The Career Sonographer – Myth or Reality?
Pamela Parker
A Transgender Patient in the Nuclear Medicine Department
Simon Girling
Training for Treatment, Cancer Prehabilitation and Beyond
Daniel Hutton
Patient Engagement, Always Events and the Future
Louise Harding, Paula Park
Senior Clinical Leadership in the National Health Service (NHS):
Why are Allied Health Professions (AHPs) So Important?
Dr Joanne Fillingham
Personalised Care - Rethinking Medicine for the 21st Century
Jim Phillips
Printed copies of Imaging & Oncology are sent to radiologists, oncologists and heads of education centres. It is also circulated to clinical radiology, radiotherapy and medical physics departments in the UK.
Imaging & Oncology is included in delegate packs at UKIO and is available at College of Radiographers' seminars, study days and events.