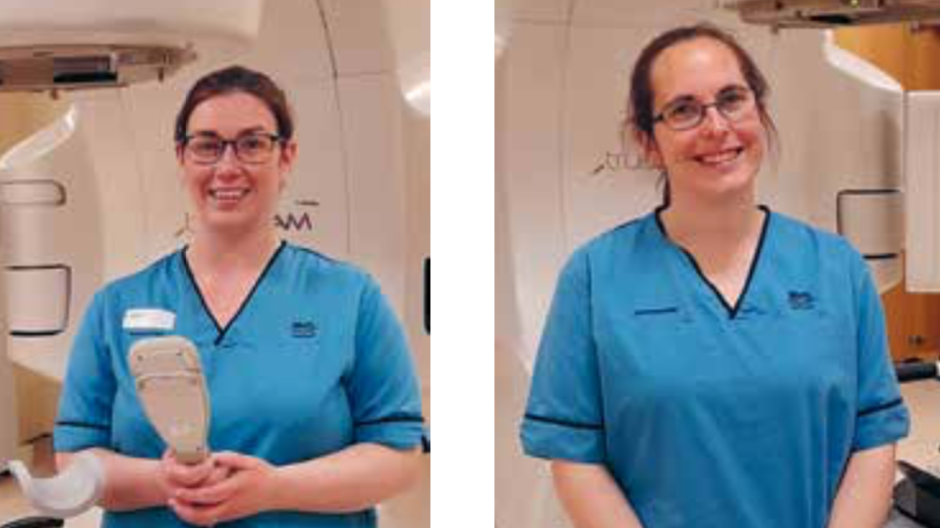 Two therapeutic radiographers from Ninewells Hospital in Dundee have separately been awarded NHS Education for Scotland (NES) AHP career fellowships.
The awards fund AHP staff to participate in an NES learning programme and to deliver their own work-based project to develop AHP services. The projects this year are focused on Covid-19 recovery.
Team leader Fiona Kennedy (pictured left) plans to create a digital prehabilitation package for prostate patients. This aims to reduce the need for repeat scans, which will not only reduce potential Covid exposure but also exposure to radiation.
She will take a person-centred approach, using patient participation to tailor a package specific to actual needs.
Fiona said: 'Patient participation is an area I am passionate about, and I hope that this AHP fellowship will give support and direction to allow me to continue my work in this area in the future.'
Advanced practitioner Kelsey Normand (pictured right) plans to build a technology-enabled, competency- based training plan for the 4DCT scanning process. By removing the necessity for radiographers to be physically based on CT, the capacity and speed with which they can develop and maintain their 4DCT scanning skills can be increased.
Kelsey said: 'Although my project has been inspired by the need to allow robust training to continue alongside the physical distancing and remote working of the Covid era, I hope that it can be useful to address the link between clinical competence and a physical place/piece of equipment and the limitations this can create.'
Radiotherapy manager Gareth Hill said: 'We are delighted to have not one but two recipients of this year's AHP NES fellowships. Fiona's and Kelsey's projects are both very worthy of the award and I know they will help to enhance our service and care to patients.'
Pictured L-R Fiona Kennedy, Kelsey Normand