London's NHS Breast Screening Recovery Programme – addressing the workforce shortage and planning for the future
Like many healthcare services, London's NHS Breast Screening Programme (NHSBSP) has been working to recover from the impact of the COVID19 pandemic.
The additional Infection Prevention Control (IPC) measures needed to ensure that clients and staff are kept safe, combined with the national shortage of appropriately qualified mammography staff, has created an even steeper hill to climb.
Over the last 20 months the six London breast screening services have collaborated to develop innovative ways of working, and have implemented proactive workforce initiatives, to support them to increase capacity to help clear
the backlog.
During the summer of 2021 services developed a pan London recruitment toolkit which includes a website that hosts a professionally produced campaign to promote careers in breast screening.
Services have also been supporting their current staff with their health and wellbeing, an event took place in March 2021 and they have recently launched the Imperial's HOTT (Helping Our Teams Transform) Programme to work with individual teams to identify, and remove, the barriers to support that staff are facing.
All these efforts have reduced London's mammography vacancy rates by 70%. Which is no mean feat, but more work is needed to reach full establishment and ensure that London's NHSBSP is fit for the future.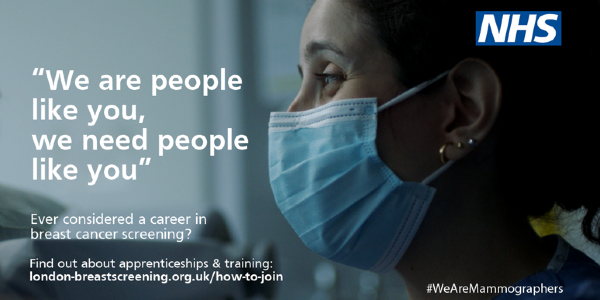 Looking forward – Pan London Training Programme
With the successful roll out of the COVID19 vaccine programme, there is light at the end of the tunnel and London's NHSBSP are beginning to focus on the longer-term aspects of the 'London NHSBSP: Recovery, Transformation & Sustainability Plan (2021 – 2025)'.
The London Breast Screening Recovery Programme, which alongside the services has membership from NHS England, Health Education England (HEE), the National Breast Imaging Training Centres and the Society of Radiographers are launching phase one of the 'Pan London Breast Screening Training Programme' that will run from January 2022 to March 2023.
This programme will support London services to proactively attract, recruit, and offer training to radiographers wanting to specialise in mammography, those hoping to access the L4 mammography apprenticeship, and support existing staff to access advanced practice training to increase the clinical skill mix within teams.
Pilot Practice Educator Role
As highlighted in Sir Mike Richard's Independent Review of Adult Screening Programmes in England, 'considerable proportions of the radiographer workforce have retired or are approaching retirement'.
While some may not wish to continue to be involved in daily service delivery, it is vital that the NHSBSP retains their clinical expertise and experience, and for these to be passed on to the next generation of staff.
To support services with the increase in training being delivered, and to support retirees wishing to pass on their clinical expertise, the recovery programme is running a 12 month pilot project to test a new, innovative role - the Breast Screening Practice Educator - that supports services with the increase in training being delivered.
The role is 100% suitable for retirees wanting to pass on their clinical expertise before they leave the service
The focus of this new role is to provide greater access to high quality training and development within Trusts and in doing so improve retention; current staff will be able to see that there are opportunities to develop and progress.
It will also link clinical education and practice, support staff in bridging the gaps, and develop evidence-based practice in the Trust, working with managers to coach and support staff to develop their practice.
Another element of this project for successful candidates will be working with system partners such as HEE and the national breast imaging training centres to plot out the strategic plans for this role going forward, as well as how this role will be imbedded into breast screening services in the future.
Sue Johnson, professional officer for the SoR and representing the organisation on the recovery programme said: 'The SoR is delighted to encourage members in London Breast Screening Services to trial this new role. Those contemplating retirement may want to reconsider and spend a year sharing the expertise, experience and knowledge gained over a long career with new starters and experienced colleagues alike.
'Many retirees tell us that they still have much to give despite wanting to leave clinical pressures behind and this provides an opportunity to fulfil that need. It is essential that all imaging services invest in education and training support and the SoR continues to raise the need for practice educators across all sectors. It is fabulous to see this project come to fruition in London Breast Screening Services and I look forward to hearing of others following this lead'.
The next 12 months in London's NHSBSP look very exciting, and the members of the recovery programme team are keen to launch the pilot training programme and practice educator projects. London services will be advertising these posts in February 2022.
If you would like any further information on the pilot practice educator role, or any of the workforce initiatives taking place in London, please contact Yvonne Damanhuri, London Breast Screening Workforce Lead, NHSE London Region ([email protected]).