In April 2023, a team of seven aspiring or current consultant practitioners from across England were recruited and commenced a six-month secondment working as radiographer clinical fellows within NHS England.
The fellows work as part of the National Cancer and Diagnostics programme team and provide a holistic resource of subject matter expertise from their wide range of clinical backgrounds. Prior to starting these roles, the fellows were working within organisational and regional roles, with limited experience of developing and implementing strategic workforce planning at both regional and national levels.
Kerry Mills, National Programme Lead for the Cancer and Diagnostic programme (pictured below), said: 'I am absolutely thrilled to see these roles finally come to fruition. Alongside gaining resource to support the many programmes of work within the cancer and diagnostic portfolio, I knew from my own leadership development that this would provide an opportunity where there has previously been a gap in gaining strategic insight and experience when working within a clinical role.
Excellent strategic leaders
"Radiographers make excellent strategic leaders who can bring a dynamic and unique viewpoint to the table however we still have limited numbers of radiographers working in these types of roles. I hope that with the appropriate coaching and mentoring, plus the exposure to different leadership experiences, the fellows will flourish and feel confident operating within the regional and national space in the future."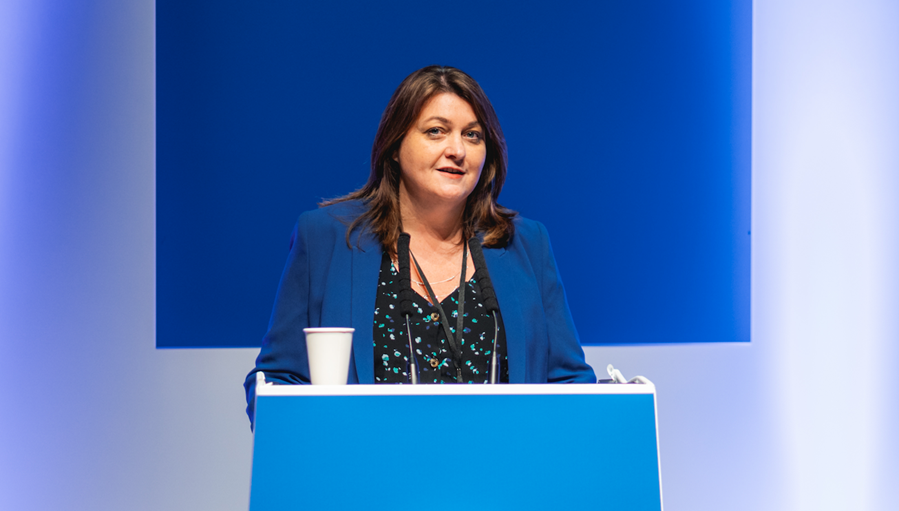 The national Cancer and Diagnostic Programme identifies and supports the implementation of key deliverables and interventions that upskill, train, and educate the radiographic workforce. Knowledge and development around the distinct levels of practice in both diagnostic and therapeutic radiography continues to evolve, and this sits alongside the various multi-professional education and career frameworks that have been developed over recent years.
The programme works closely with the National Centre for Advancing Practice and the Society and College of Radiographers, and this collaborative working ensures there is robust governance and a clear understanding around the accreditation, recognition, and acceptance of different levels of practice.
The fellows will be undertaking a number of planned projects bringing their expert local knowledge and experience into strategic and operational planning and delivery. They will engage with key stakeholders in a coordinating and facilitating role, between NHSE national programmes and the various regional faculties and programmes that collectively support the delivery of a range of initiatives aimed at developing enhanced, advanced and consultant level practice within radiography.
Projects being supported
A range of projects with pre-defined aims and deliverables aimed to support and progress enhanced, advanced and consultant level practice were outlined at the beginning of the fellowship and allocated among the team. The project areas the fellows will be supporting include:
Enhanced practice apprenticeships
Engaging with Higher Education Institutes and creating a directory of enhanced and advanced level postgraduate courses
Defining consultant level clinical radiographer practice
Promoting the opportunities of advanced practice within the NHS regions
Communication, liaison, and monitoring of national and regional funding offers
Evaluation of radiographers who have undertaken the NHSE ePortfolio (supported) route
Establish and ensure an appropriate internal communications strategy
Establish the remit, reach and engagement in any current communities of practice and explore additional opportunities nationally and regionally
Equality, diversity, and inclusion (EDI) is the golden thread throughout all workstreams, weaving active engagement and promoting the development of inclusive and representative workforce in each project. In order to establish this front and central to any of the projects, deliverables will include seeking novel ways to better promote EDI within the workforce at enhanced, advanced and consultant practice.
As well as these projects, the fellows will engage in reflective practice throughout the six-month period, enabling evaluation of how these roles impact the supporting organisations, regions, systems, and professional bodies as well as the individuals' development. They will contribute to the development and delivery of national strategy.
Personal development
On an individual level, the fellowships present a unique opportunity for personal development. Working at a strategic and operational level allows the fellows to gain invaluable insight and new skills to support the core leadership pillar competencies expected at consultant level practice. The projects being undertaken present several research opportunities, some of which will be presented at key conferences and submitted for formal publication contributing to the individual fellow's research pillar.
Peer support among the fellows has already proved to be a key aspect of the fellowship. Utilising a broad range of skills and experience, the fellows have been supporting each other, working collaboratively, and gaining unique insight into practice in other trusts, regions, and specialities.
The clinical fellows are passionate about the future development of their profession. They plan to represent colleagues to the best of their ability, taking into consideration the diversity of the workforce and critically advocating for inclusivity and representation in the pursuit of career progression options. The fellows look forward to supporting development of the workforce at enhanced, advanced and consultant levels to meet national service and population needs, promote professional identity, and ensure high quality patient care.
During this initial phase, you can contribute to the work of the clinical fellows by following #NHSERCF on twitter, completing surveys and sharing your examples of best practice.
Meet the clinical fellows
Name: Emma Compton BSc (hons), PgDip, PgC, MSc
Clinical background and specialty: Diagnostic Radiographer, Plain film imaging reporter
Current roles: Radiography Clinical Fellow, NHS England; Lead Reporting Radiographer at Guys' and St Thomas' NHS Foundation Trust
Twitter handle: @EmmaDRad
"Bridging the gap between advanced and consultant practice in the leadership pillar has been the biggest hurdle for me. This role will give me invaluable experience and mentorship around strategic leadership to improve my capabilities to the level expected from a consultant practitioner."
Name: Helen Watts MSc Advanced Clinical Practice (Radiography), BSc (Hons)
Clinical background and specialty: Diagnostic Radiographer, Plain film imaging reporting
Current roles: Radiography Clinical Fellow, NHS England; Radiographer Advanced Practitioner, Radiology Governance advanced practice and research lead, South Tees NHS Trust
Twitter handle: @helenwatts91
"This fellowship is a huge opportunity for personal development, particularly in strategic leadership and through mentorship from our colleagues in the cancer and diagnostics and wider NHS England teams. I know how much potential there is in the radiography workforce, and I look forward to supporting these upskilled levels of practice to raise the profile of the profession and empower individuals in their career journeys."
Name: Ryan Carr BA, BSc, MSc
Clinical background and specialty: Diagnostic Radiographer and Sonographer
Current roles: Radiography Clinical Fellow, NHS England; Advanced Practice Training Programme Lead for Cancer and Diagnostics, NHS England South-East; Sonographer and Doctoral Candidate
Twitter handle: @ryac1601
"As an advanced practice training programme lead, I am part of a multidisciplinary team working at regional level that is part of a wider discussion on how advanced and consultant level practice is utilised across region. I am excited to develop this into the national discussion and influence how sonographer roles can be utilised at this level of practice."
Name: Rachael Bilton, MSc Advanced Medical Imaging, BSc (Hons) Diagnostic Radiography
Clinical background and specialty: Diagnostic Radiographer with specialist interest in gastro- intestinal imaging, particularly in the modalities of fluoroscopy and CT colonography.
Current roles: Radiography Clinical Fellow, NHS England; Consultant GI Radiographer at Northwest Anglia NHS Foundation Trust. Associate lecturer at University of Suffolk. Committee member of Gastro-intestinal Radiographers Special Interest Group (GIRSIG). Clinical advisory board member for the National CT Colonography Training & Accreditation Programme.
Twitter handle: @rachbilton
"Having worked as a Consultant Radiographer for several years the opportunity offered by this project has encouraged me to take the leap and look outside the familiarity of my current role, challenge myself and expand my horizons. The key element of this is the further development of the leadership and research pillars of my practice through increasing my knowledge of strategic level operations in addition to the opportunity to influence the future of enhanced, advanced and consultant level radiographic practice."
Name: Luisa Roldao Pereira
Clinical background and specialty: Nuclear Medicine, with specialist interest in Nuclear Medicine Therapies
Current roles: Radiography Clinical Fellow, NHS England; Trust ACP Project Lead, Nuclear Medicine Superintendent and Advanced Clinical Practitioner in Nuclear Medicine Therapies. Vice-chair of the Technologists Committee of the European Association of Nuclear Medicine
"The fellowship is an unprecedented opportunity for those in radiography practice to work together
towards advancing themselves as well as the profession. I am enthusiastic about the interprofessional learning arising from the collaboration with fellows from different modalities and to jointly progress our system-level leadership capabilities."
Name: Kim Whitlock BSc (Hons), MSc
Clinical background and specialty: Therapeutic Radiographer with a special interest in breast cancer.
Current roles: Radiography Clinical Fellow, NHS England; Consultant Therapeutic Radiographer (Breast) at Norfolk and Norwich University Hospital NHS Foundation Trust. Chair of Trust Advanced Practice Oversight Group. Vice-chair of the Breast Radiotherapy Special Interest Group.
Twitter handle: @kwhitlock03
"The publication of the Multi-professional Consultant-level Practice Capability and Impact
Framework by Health Education England allowed me to evaluate my current practice. I applied for the role of clinical fellow as it offers a unique opportunity to gain strategic leadership experience, with expert mentors, and believe it will develop and consolidate my abilities as a clinical practitioner across all pillars of consultant-level practice."
Name: Katie Bradshaw BSc (Hons), MSc
Clinical background and speciality: Therapeutic Radiographer with a special interest in
gynaecological oncology and pelvic radiotherapy late effects
Current roles: Radiography Clinical Fellow, NHS England; Advanced Practice Radiographer in Gynae
oncology and Pelvic Radiotherapy Late Effects at Cambridge University Hospital NHS Foundation Trust.
Twitter handle: @katebradshawAHP
"As an aspiring Consultant Radiographer, the fellowship represents a unique opportunity to develop
strategic leadership skills, while considering other ways in which to support my profession, through
raising the profile of enhanced, advanced and consultant level practice. Working within a team of
dynamic diagnostic and therapeutic radiographers, while receiving expert mentorship is a huge privilege."