Radiography students from City University London were in attendance at an awards ceremony to celebrate their successes over the last academic year.
The awards ceremony, held by the university's School of Health Sciences, took place at the end of February.
Students were nominated for academic, research and practice achievements for prizes by their relevant programme director, personal tutor or practice colleagues.
Also being presented were prizes sponsored by the Society and College of Radiographers, won by Elizabeth Joyce, Helen Creasey and Holly Hufflett.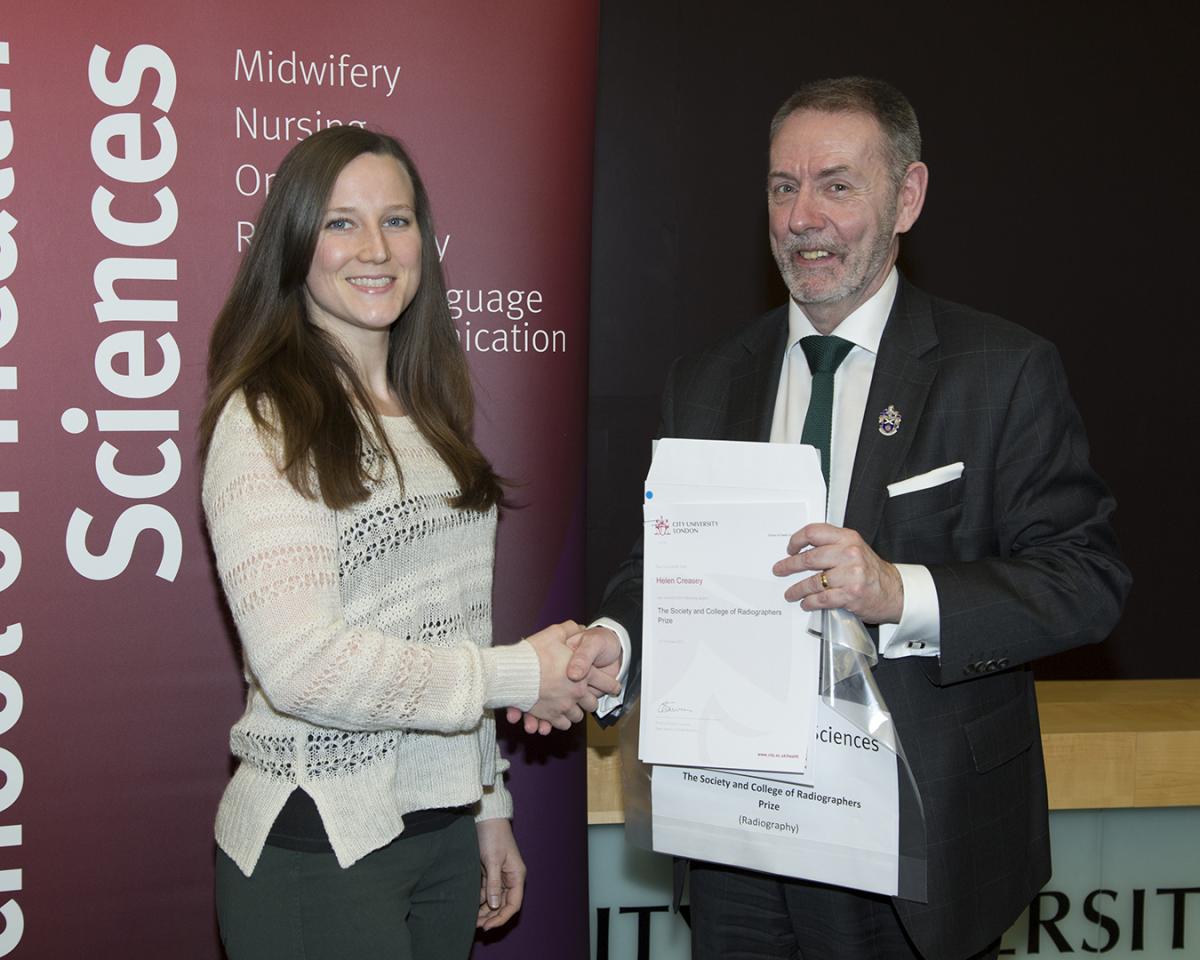 Helen, who was one of the winners of the award for therapeutic radiography, graduated with a BSc in Radiology (Radiotherapy and Oncology) and is now working at The Royal Marsden Hospital in Surrey.
She was nominated for the prize for her academic achievement and for taking part in a final year exchange programme at Nanyang University and Tan Tok Seng Hospital in Singapore.
Helen said, "I felt really proud for winning the prize, and very honoured to have been recognised by my lecturers for my hard work during the course."
Holly, a diagnostic student, graduated last year and is now practicing at Royal Sussex County Hospital in Brighton.
She said, "I was told about the prize by one of my lecturers after they compared overall marks for our year.
"I was very excited to win and very relieved that all my hard work had paid off throughout the course."
Sean Henderson Kelly, Membership and PR Manager at the Society of Radiographers, presented the awards and said, "It is always an honour and a pleasure to present the Society's student awards.
"These are available to all universities and include a year's free Society membership as part of the award.
"The awards enable recognition of student achievement in areas sometimes different from those of more standard awards that focus on academic or clinical practice achievement."
If you'd like to discuss any aspect of the awards available to students through the Society, or if you would like your university or academic institution to offer a similar award scheme, please contact Sean directly on 0207 740 7239 or via email.
The other radiography prizes were presented by Richard Thorne and Sohpie Willis, course leaders in therapeutic and diagnostic radiography respectively.
The prize winners were:
Best Clinical (Therapy) Prize – Bradley Robinson
Best Clinical (Diagnostic) Prize – Nataliya Charnetski
Best Academic (Diagnostic) Prize – Philippa White
Best Academic (Therapy) Prize – Helen Hawes