The SCoR has welcomed two new members to the College of Radiographers Industry Partnership Scheme (CoRIPS) this month.
GenesisCare UK and Rothband joined the growing list of companies who have pledged to support radiography research, taking the total number of partners to 28.
Rothband has been making radiation protection equipment for over a century and Richard Evans, Society CEO, visited their factory in Lancashire to deliver the CoRIPS plaque.
Paul Dixon, managing director and Andrew Jennings, technical sales and engineering manager from Rothband (pictured below), received the plaque.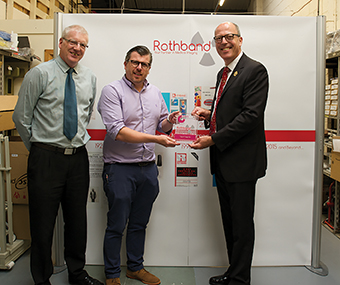 GenesisCare UK, meanwhile, is an independent sector provider of cancer care services to patients across the UK and joins CoRIPS as a Premier Partner.
Richard visited the team at the recently opened GenesisCare centre in Maidstone, Kent, where he presented the CoRIPS plaque to Matt Hickey, director of clinical strategy and Colette Warr, centre manager.
Radiographers Susannah Jansen Van Rensburg, Amanda Thain, Erna Joubert, Sheila Nakabuye, Amanda Grzadziel and Thembelihle Muyirimi, were also present to show off the new centre.