AUTHOR: ALEXANDRA COOK, DEPARTMENT LEAD RADIOGRAPHER
As I walked into work this morning, I remember when I started working here in late March. We opened the hospital a week later.
In normal life, without Covid-19, I would be walking up to this building, the ExCeL Centre in east London, excited to collect my race number for the London Marathon.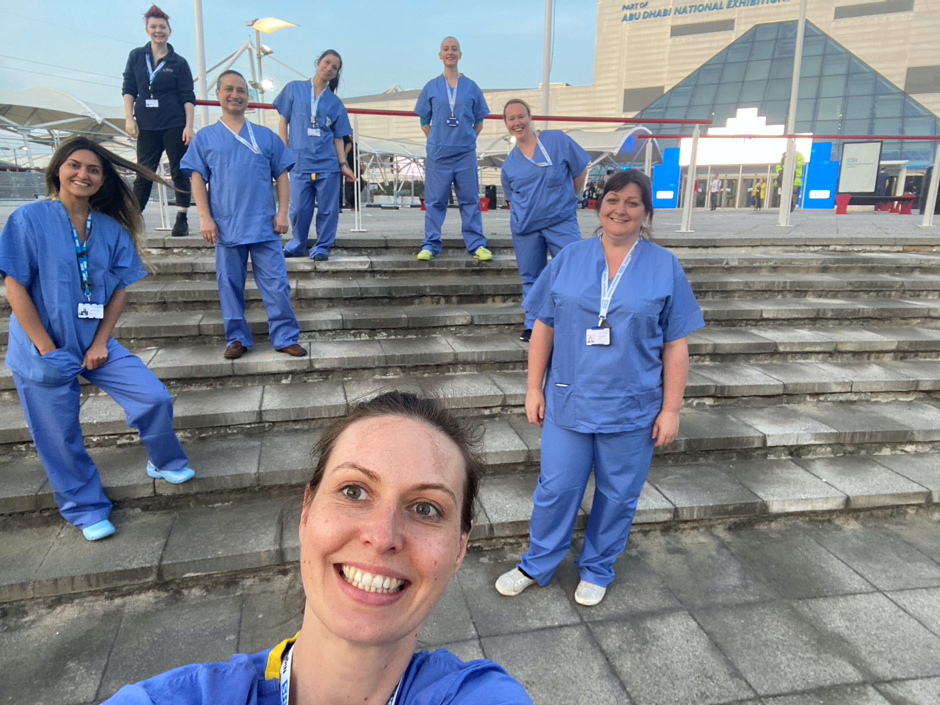 The first day I arrived to an empty event hall, full of builders and the venue was changing hourly. The early days were spent mapping out CT scanner profiles, taking delivery of equipment, apps training, and greeting staff arriving for induction.
Before receiving a phone call to come to the Nightingale, I knew as soon as the project was announced that I wanted to help. Being an NHS worker, the first response to any emergency is that you want to help fight to save lives. It is a natural instinct for a professional who works in healthcare.
My mum cried (I am in my 30s) and she works in social care and is run off her feet herself. She understood when I said, "Don't worry, mum; it is something that I just have to do."
One of the radiography team, Robin Jacob, also thought it was the right thing to do but it was hard to explain it to his wife.
Katie Davison, team lead radiographer, said, "I did not have any idea of what I was involving myself in. Everything was unknown, from the shift pattern, the volume of patients and even the type of radiological examinations which would be expected of me."
This was true for us all: it was planning for the unknown.
3 April - Opening Day
We invited all the radiographers and radiologists to meet. I have never been so nervous in my whole career.
Setting up a service with Alan Kaye, the head of imaging, and the core imaging management team, was the easy bit. Making a team from radiographers and radiologists from NHS trusts, the private sector, returners and academics, managers to juniors, was challenging.
It worried me that having just five hours to pull a team together was not achievable. But it was: I quickly realised we had a fantastic and brilliant imaging team.
We all came with a common purpose. We wanted to help. We wanted to be there for the patients, for their families and friends, to fight the fight of Covid-19, and to support every NHS worker in every trust.
Working day-to-day
We learned that Covid-19 disease management relies heavily on imaging, with the focus on chest x-rays and CT. At the Nightingale we perform general mobile x-rays in the ICU and step down ward. Chest x-rays provide clinicians with images to see patient progress and to monitor the placement of lines.
CT provides imaging for patients who develop acute conditions, so they may be treated appropriately, or can be transferred for emergency care in acute trusts.
The rota for radiographers is two day shifts, two night shifts and three days off.
When planning a rota, the balance of working and time off is essential for the wellbeing of staff and service delivery. Working on an ITU can be very demanding physically and mentally, so making sure we have enough staff to deliver the service required is a priority.
As a manager, I do not normally get a chance to do the physical work, but at Nightingale I am part of the rotation and I work days and nights. Other lead radiographers are on other rotations to make sure everything works smoothly.
We have learnt to 'don on and off' with our minds, as well as our physical PPE. Being a close-knit team we have maintained our mental health and resilience, promoting happiness and wellness, fostering a real sense of community and care for one another.
Robin is a London Region SoR industrial relations representative and he has been pleased with the good level of PPE and the staff's favourable employment terms and conditions. A big positive for the radiography team is that there is a flattened hierarchy structure, something not seen in many radiology services.
For me, it has made me go back to the foundations of why I became a radiographer and why I went into management. I started my career as a HCA working with a brilliant lead radiographer, who inspired me to become a radiographer. I have a strong desire to change the role of radiographers and awareness of them in hospitals. This role is helping me to do that.
We have also tried new ways of working with a PACs based radiology system that lightens the load. We work closely with the radiation physics teams to make sure that we are optimising patient dose. Working on an ITU constantly isn't normal working for any radiography department, but it is something that has evolved since Covid-19 admissions have increased.
Every member of staff in the hospital has taken on the role of being family members for the patients because, of course, their own are unable to visit. We go into the ward in pairs, so that we can check that the other person has put PPE on correctly, and we have enough help to do a chest x-ray.
It also gives us the chance to explain to patients what is happening, even though they are ventilated, to hold their hand, tell them how the weather is outside, or even that the SpaceX satellite is passing overhead.
All the staff celebrate the patients that have woken-up and are discharged, and we mourn the patients that have passed away. Relatives know that we have treated them as part of our family and individual patients were never on their own.
One month on
The ExCeL Centre is now the Nightingale Hospital. It looks like a hospital and it feels like a hospital.
The ethos of the Nightingale is that we are 'one team' and radiology is very much part of it. Radiographers have adapted their ways of working.
They help the ward teams with day-to-day jobs, making sure that ward staff and the team are supported, and that our patients receive the best care. They are all very proud to be Nightingale Radiographers.
The Nightingale is unique in its approach to specialities because they are included in all decisions. As the department lead radiographer, I attend matron meetings, education updates to ensure radiographers are receiving the correct induction, AHP leads discussions, and the daily clinical forum to talk about what we have learnt and what we are going to change tomorrow. We are constantly adapting the service and the ways of working.
The radiology team are extremely proud to work at the Nightingale, London and we are immensely proud of all the other staff members that work with us. There is positivity, pure motivation and high morale.
We are uncertain what the future holds as the pandemic continues, but we do know that if it wasn't for the response of every NHS worker and trust, every person that has stayed at home, we wouldn't be able to lead the fight against it and be ready for anything it brings to us.
Working at the Nightingale is truly a humbling experience and a phenomenal endeavour.
The Nightingale London Radiography Team
Head of Imaging
Alan Kaye,
Department Lead Radiographer
Alexandra Cook
PACs Manager
Brian Turner
Team Lead Radiographers
Katie Davison, Paul Hague, and Louise Strom
Radiographers
Lauren England, Hosien Farzanekhoo, Natasha Fonovic, Patricia Garcia, Rob Gill, Justine Greenhorn, Robin Jacob, CK, Kerry Mills, Katie Pantling, Erin Pudney, Brooke Reeves, Cristian Silvestre, Lorna Smith, and Rachel Williams.
Audit Radiographer
Nick Woznitza