Cora Regan has been appointed to the role of imaging lead within the Department of Health announced in September by Minister for Health in Northern Ireland, Robin Swann.
Cora has worked as a diagnostic radiographer for 23 years, since graduating with a BSc Hons in radiography in 1998. She initially worked in Musgrave Park Hospital in Belfast, where she first became IR rep for the Society of Radiographers.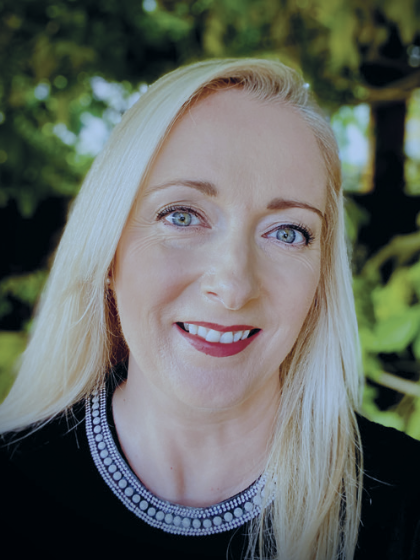 She moved to the Northern Health and Social Care Trust in 2004, working initially in Antrim Area Hospital as a senior radiographer. In 2006, Cora completed the Leeds barium enema course, followed by the gastrointestinal reporting course at Bradford University in 2008. In 2011, she was appointed practice educator/ CPD co-ordinator for radiography and also took on the role of IR representative for the SoR.
In 2015, Cora completed a Level 5 City and Guilds qualification in leadership and management in health and
social care and, in 2016, she completed a PGCert in advanced practice in medical imaging, video fluoroscopy.
At this time, she set up the AHP-led video fluoroscopy clinic with her colleagues in speech and language therapy. Alongside this project, she also set up the radiographer-led hysterosalpingogram service, which received excellent feedback from users.
In 2017, Cora was appointed assistant clinical services manager for radiology in the Northern Health and Social
Care Trust, with operational responsibility for managing more than 200 staff across the trust.
In 2018, she became observer to UK Council of the SoR and represented Northern Ireland
as Council member from 2018 to 2019.
More recently, this year and last she has spent time as interim clinical services manager for radiology, which involved leading the radiology service and guiding staff at the height of the Covid-19 pandemic.
She has always continued to work clinically with colleagues in speech and language therapy to deliver
the video fluoroscopy service alongside her management roles and will continue to do so.
Cora said: 'The past 18 months have been unprecedented, with us all witnessing seismic shifts in both our personal and professional lives. I am extremely proud of all my colleagues and how they have worked so hard, in very difficult situations, often at the detriment of their own personal time.
'As a profession, we have had to adapt at pace but we have shown, as radiographers, that we have the strength and resilience to provide a high-quality service – even under extreme pressure – and lead our profession into
the future.'
In her new role, Cora will aim to develop advanced practice in radiography across Northern Ireland.
She said: 'We have made good progress in relation to practice development but this can now be approached on a regional basis, which will ensure consistency. I have always had a passion for education, role development
and advanced practice, which is reflected across my own career to date. I want to ensure there is a clear development pathway for those working clinically who don't necessarily want to take the management career path.'
Cora is particularly keen to develop the assistant practitioner workforce, enabling staff with the necessary skills to develop into assistant practitioners.
She explained: 'There is so much great work out there that isn't recognised and my role is to develop this across all trusts'.
She added: 'This new role is a huge opportunity, not only for me but for radiography in Northern Ireland. It is an opportunity to scope current practice, to regionalise the plan to address any gaps, and to use the regional Advanced Practice Framework to develop practice right across radiography.
'Not only will this help to address recruitment and retention issues but it will also help to reduce waiting lists and improve service delivery and pathways of care for our patients in Northern Ireland.'