The Society of Radiographers is pleased to launch the new Northern Ireland Election Manifesto for 2022.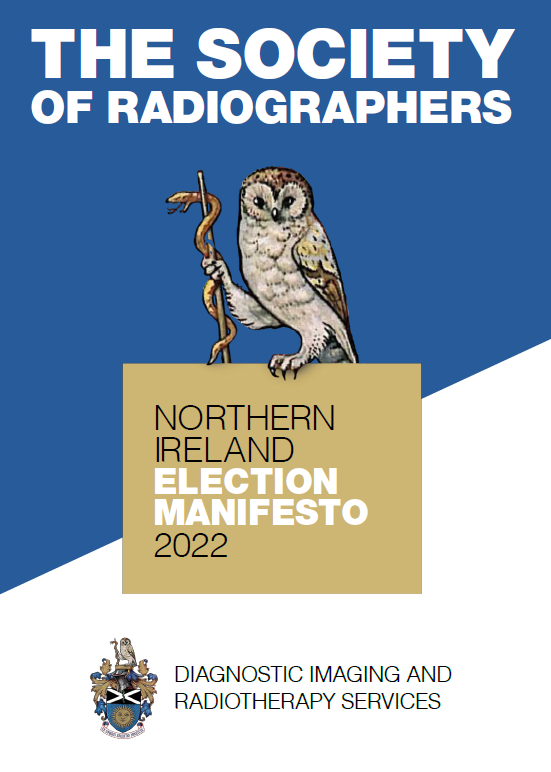 Northern Ireland National Officer, Leandre Archer has worked hard to bring the manifesto together ready for the elections to the Northern Ireland Assembly which will be held on May 5th.
Our manifesto
The key asks of the manifesto are as follows:
Implement an above inflation pay rise to help address staff retention and future recruitment, especially at a time of rising costs.
Ensure adequate investment so that diagnostic and radiotherapy services have the capability to meet current and future demand.
Increase the number of reporting radiographers in Northern Ireland.
Actively support radiographers maximising their clinical potential and provide clear professional pathways for support workers.
Undertake strategic radiography workforce planning and review to ensure the increasing demand can be met in the future.
Investment in imaging and radiotherapy services
The manifesto emphasises the need for greater investment into imaging and radiotherapy services to ensure future demand can be met in Northern Ireland. In all areas of medical imaging and therapy demand has been rising faster than the supply of staff for more than a decade. It was accepted before Covid that radiography needed to increase its workforce by around 6% each year until 2026 to meet known demand. Covid has shone a light onto the full extent of the recruitment and retention crisis in all areas of the NHS, but especially diagnostic imaging and therapy radiography.
The vacancy level in Northern Ireland is 8.6% and rising which is not sustainable. Undergraduate commissioning will need to increase by approximately thirty-five more students per year in diagnostic imaging to meet future demand.
Leandre Archer states, 'Staff are completely exhausted with many dealing with burnout and fatigue due to working excessive hours during the pandemic. A substantial pay rise is what our members and other healthcare staff demand and deserve. This must consider the rising cost of inflation, increases in national insurance and pension contributions. Anything less is a pay cut in real terms."
Leandre also said:
"It is essential that following the Northern Ireland election the new government comes together quickly to pass a 3-year budget to ensure funding of our health service for the population of NI. If the stalemate continues this will result in a decline in patient services with waiting times and backlogs continuing to increase further."
Advanced practice is one of the solutions to many of the issues including patient discharge, backlogs and waiting list problems. Increased funding is required for post graduate education ensuring that the radiographers enhanced clinical skills are underpinned by master level academic qualifications.
Transforming patient care and services
Throughout the UK there is a substantial evidence base that radiographers working at advanced and consultant practice levels are transforming services and reducing costly outsourcing. In 2021 £10.2 million was spent on outsourcing of diagnostic images. The government in Northern Ireland must recognise this and act to ensuring that radiographers are able to work at the very top of their license and be provided with the career development opportunities to improve and transform patient care and services.
Our support workforce requires viable options in Northern Ireland for education and advancement into the radiography profession. Apprenticeships, not only at degree level but also for assistant practitioners would provide a viable pathway for this group of members. In Northern Ireland, the health trusts have been the paying tax levy from 2015 for apprenticeships yet none have been implemented, this needs to change.
Sustained workforce planning
Workforce planning underpins everything that we set out to do. Both the implementation of the DOH Cancer strategy or the DOH Imaging strategy requires additional numbers of radiographers at every level. Simply put, we will not be able to meet service demand if we do not get the workforce model right.
Speaking at a recent AHP engagement event at Stormont Leandre said,
"Workforce planning is not a one-time event we have to continually review models to ensure safe staffing. The implementation of safe staffing legislation when introduced in Northern Ireland for radiographers and other AHP's will be welcomed but there is much work to do before this."
As national officer I will ensure that the SoR lobbies and influences on behalf of our members so that radiographers are leading the way within the AHP workforce. I would ask that all our members in Northern Ireland do their part to raise the profile of the profession within your constituencies."
Get involved
If you are based in Northern Ireland, the SoR asks that you:
If you have any questions about the manifesto, please contact [email protected]