The 48-hour strike by SoR members in Northern Ireland won 'huge' public support and media coverage on its first day, as radiographers gear up for a protest outside Belfast City Hall with fellow unions today.
The action, running from 8am on Thursday 21 September, is an effort to tackle the recruitment and retention problems besetting the profession, which have left almost 10 per cent of the population waiting for diagnostic tests.
Cora Regan, Northern Ireland national officer for the SoR, said: "We had a successful first day on the picket lines in Northern Ireland. The turnout was fantastic and the enthusiasm and determination shown by every single person on every picket line, despite some inclement weather, was inspirational to everyone they met.
Massive media coverage
"There was huge public support and massive media coverage with radiographers featuring on radio and television news front and centre. I am immensely proud of every single person who stood in solidarity with their colleagues and fellow trade union members and I'm really looking forward to Friday where not only will we be standing on picket lines across Northern Ireland, we will stand with our trade union colleagues and leaders in front of Belfast City Hall and collectively call our politicians to action.
"Our members deserve better, our patients deserve better."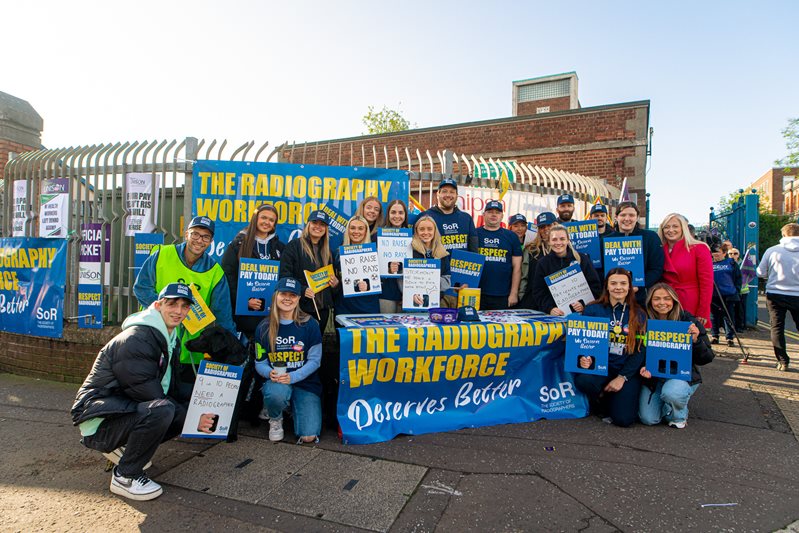 SoR members outside the Royal Victoria Hospital, Belfast
The SoR also received a letter of support from the General Federation of Trade Unions (GFTU). Gawain Little, general secretary of the GFTU, sent "solidarity greetings" to members.
"We know the vital role our healthcare workers play in supporting our communities. It is fantastic to see this level of unity of unions jointly taking action across both health and civil service. We are fully behind your joint campaign and wish you a swift victory."
Images: Liam Simmons