It's the beginning of April and I'm a final year student studying diagnostic radiography.
It's the big push and everything is in place to find those extra marks and get a first. I certainly had no idea what 'donning' and 'doffing meant in what already feels like a lifetime ago.
Coronavirus changed everything: the university went into lockdown, and I had to decide if sitting at home trying to improve my essays was rapidly turning into a vanity project. Staying at home felt wrong, like a soldier training for war and asking if he can start work… once the war is over.
With a deep breath and shaky hand, I decided to fill in the NHS Professionals online form and get on the HCPC temporary register to work at my nearest hospital, the William Harvey in Ashford, Kent.
As a student, I had spent most of my time on placement there and it was the only team that I wanted to work in. I remember speaking to my course leader, Rebecca Sandys at Canterbury Christchurch, needing some reassurance and a nod of approval, which she gave - thankfully!
Three days after joining NHS Professionals, I started work. To protect the department and each other from Covid-19 spreading, we were put into small teams working 12.5 hour shifts.
Within an hour of starting work, I was with a colleague taking the mobile x-ray machine to respiratory ED. Within a flash my world had turned into a dystopian, apocalyptic nightmare, and all I could think was that I hope my colleague can't see me shaking.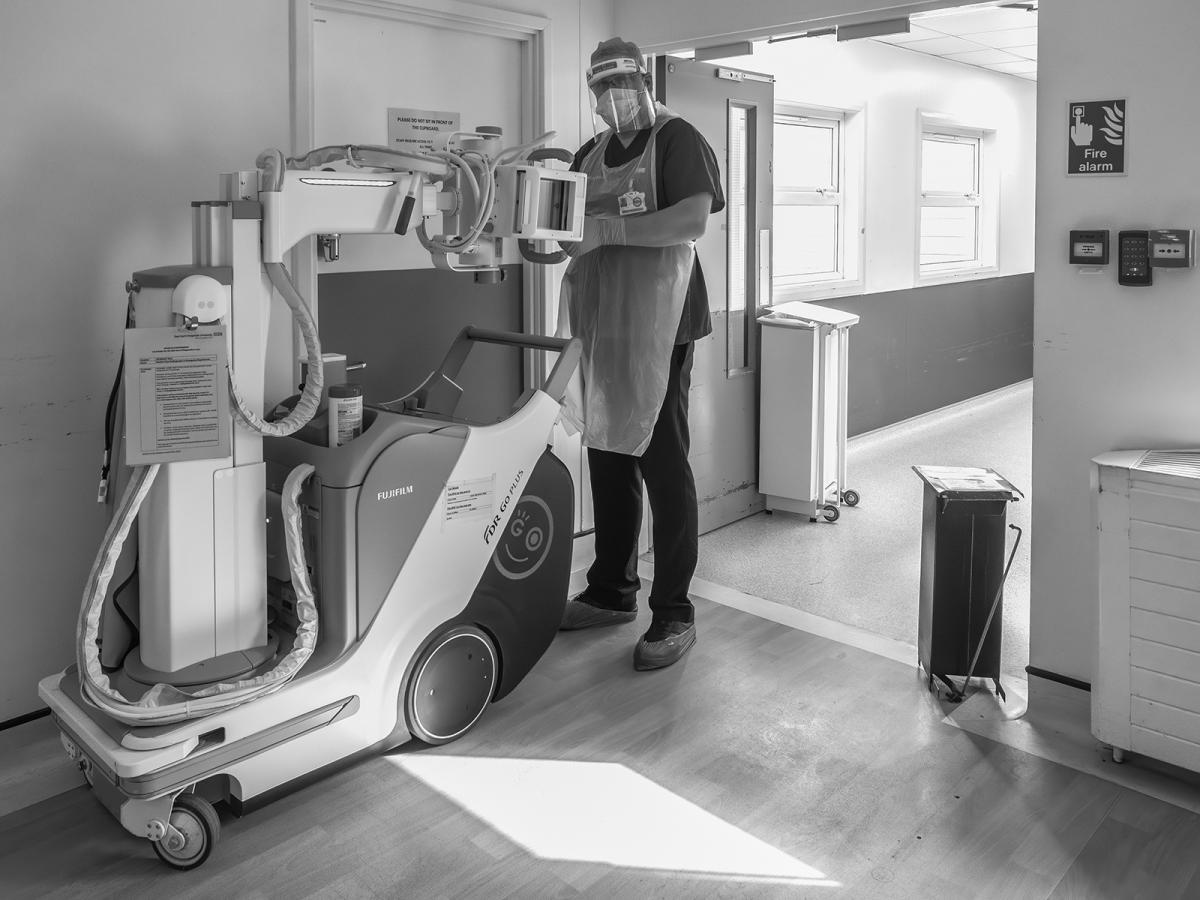 I needn't have worried though: calm, smiling eyes and a nod were welcome, and I was reassured - again! We got lucky for my first visit: we only had five mobile x-rays. I think the record for mobile chest x-rays in one visit currently stands at 16.
It's incredible how quickly putting on full PPE and doing mobile x-rays becomes the new norm, as does eating (free) baking apples for lunch. It's hard, it's really hard. I'm a big unit, with shovels for hands, so that makes it difficult to put the PPE on. Ideally, one needs dry hands to put the gloves on effortlessly, and that rarely happens. Then there is the mask, and at some stage, I will get an itch, or feel the need to make an adjustment, but I'm too scared to bring my Covid infected gloves anywhere near my face.
It's hot and I'm sweating, my glasses steam up, and there's condensation on the inside of my visor. It's important to breathe slowly. The patient I am going to x-ray lies next to the brightest window, and so, blinded by the light, the sweat and the condensation, I cannot see the collimation.

The mobile x-ray machines are getting hammered 24 hours a day, and suddenly after your 10th mobile chest x-ray, the battery on the detector dies, and you just want to give up. You don't though, nobody does.
I remember driving home after my first shift, on the phone, screaming at my wife to move the kids and herself into a different room. I just felt like I was covered with Coronavirus. Over the weeks, the hysteria died down and the procedure of getting changed in the garage after work became effortless and normal. Uniform in pillowcase and straight into the washing machine. Job done, day finished - night, night.
I'm reminded of Henry Ford: "Coming together is a beginning. Keeping together is progress. Working together is success," and that's how I felt working at the William Harvey. You just get to that final sentence a lot quicker, you have to, or things will go wrong quickly.
I hope everyone says that they work with the best team within the NHS; they deserve to. In my previous job working as a news cameraman, I worked in some fantastic teams all over the world, but working for the NHS in the imaging department at William Harvey is different.
It takes teamwork to a different level. Not only do you see what people have actually got inside them, but I've also learnt a bit about what's in me. Teamwork is essential to the functioning of the imaging department. Everyone has an important position that is crucial to the success of the shift. Whenever anyone drops the ball, someone is always ready to scoop it up without malice or judgement. Failure was never an option.
Some days, looking at my colleagues' eyes, searching for warmth, but quite often seeing exhaustion is hard, but you do learn to see people smile with their eyes.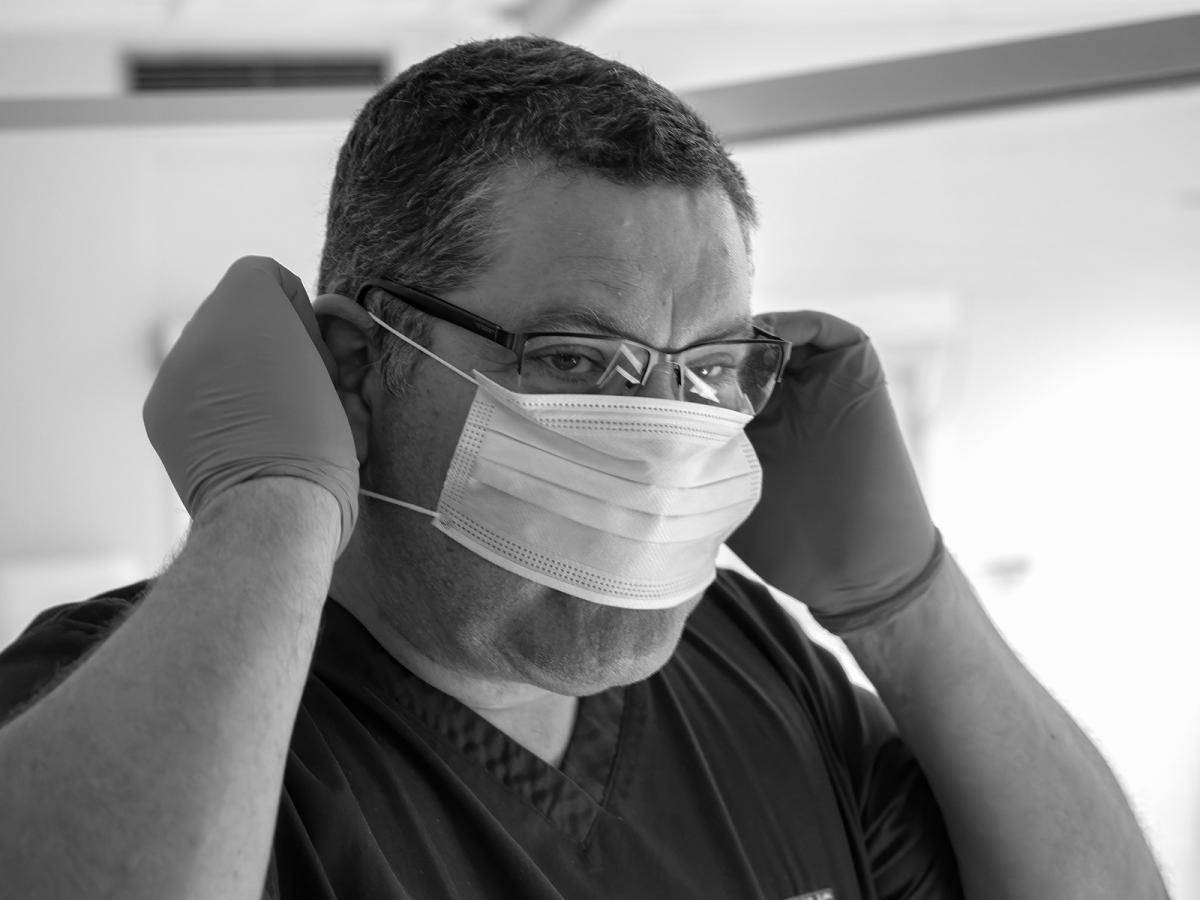 Only those that worked the spring and summer of 2020 at William Harvey will know what it was like; not only did we learn about each other, but also ourselves. When the country was in lockdown, we never flinched.
I'm so glad that I didn't miss out, and feel proud of the decision I made. We can argue another day about tuition fees and effectively having to pay to start work earlier. For what it's worth, I still got a 2:1 and started working as a staff member at the William Harvey at the end of June.
I know we haven't beaten Coronavirus, and we are all a bit nervous about winter, but it does feel like the imaging department won the first round.
Images courtesy of Kyle Tallett, superintendent radiographer, William Harvey Hospital, Ashford, Kent.