Dr Jane Harvey-Lloyd has been appointed as Professor and Head of the School of Radiology at AECC University College. She will be taking up the role on 11 January 2023.
Dr Harvey-Lloyd is a diagnostic radiographer with over 20 years' experience in higher education. She joins AECC University College from the University of Suffolk, where she held the post of Associate Professor and was integral to the development of a range of undergraduate and postgraduate courses.
This included designing and managing the PgC Advanced Practice and Reporting in Computed Tomography Colonography course in partnership with Peterborough City Hospital, which is currently the only course of this kind in the UK.
Chair of qualititative research at SCoR
Dr Harvey-Lloyd is currently a Senior Fellow of Advance HE, Chair of the Qualitative Research in Radiography Specialist Interest Group (Society and College of Radiographers), an Accredited Assessor for the Society and College of Radiographers (SCoR) Approvals and Accreditation Board (AAB), a committee member of the National Association of Educators in Practice, a National Institute for Health and Care Research (NIHR) evidence reviewer, and also a reviewer for several international journals.
She said: "I am thrilled to be joining AECC University College in January at such an exciting time in their development and look forward to playing an integral part in their future success and working with the wider healthcare organisations and communities across Dorset."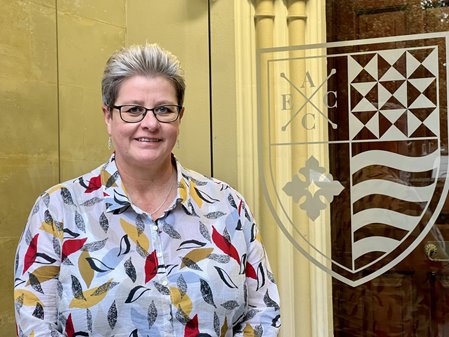 Dr Jane Harvey-Lloyd: "Passion for supporting others"
Dr Harvey-Lloyd's main research interests include paediatric imaging, autism, patient care, interprofessional working and communication, Equality Diversity and Inclusion (EDI), resilience and practice education.
She completed her PhD at the University of Brighton in 2018, entitled 'Being and Becoming a Diagnostic Radiographer'. Her doctorate explored the transition of newly qualified diagnostic radiographers in the first 12 months following graduation. This work combined her passion for coaching with motivating and supporting others.
Advocate for students
Dr Harvey-Lloyd is passionate about the patient voice and service user involvement and prides herself as being an advocate for students, continually seeking to improve the experience of both students and patients.
Vice-Chancellor of AECC University College Professor Lesley Haig said: "We are delighted to welcome Jane to AECC University College in January. This is an exciting time for AECC UC as we continue the development and expansion of our radiography programmes and clinical services, working closely with our Dorset ICS colleagues and following the recent opening of our new Integrated Rehabilitation Centre.
"Jane brings a huge amount of knowledge and experience to the role and we know our students - and other colleagues - will benefit from her insight and leadership."