'We've never had one before, but we certainly needed one.' Pat Hudson is the first Governance Radiographer for Harrogate District Hospital, in North Yorkshire.
Her career of 37 years at the hospital began as a second year student, gaining experience in a range of procedures including CT, nuclear medicine, joint injections, MSK and enemas.
Pat retired at the end of April 2020 and had just one week off before the demands of the pandemic response called her back to the frontline. She worked part-time in her previ
ous post as operational lead to help out and ensure a smooth handover to her eventual successor.
Pat officially started her governance role on 1 October and works two days a week but admits it's a full-time job. Given the wide remit of the role, her day often begins with the question 'where do we start?'.
'Things have changed so much since I started', said Pat. When her career began in the 1980s, scans were developed manually. 'The difference in technology is incredible.'
The Governance Radiographer role did not exist until Radiology Services Manager Gill Hicks set the department's sights on Quality Standard for Imaging (QSI) accreditation. Despite the pandemic conditions, the department reviewed all its processes and identified a need for a governance role.
'It's weird not working in clinical anymore,' she admits, but is excited at the potential of her new post. This involves ensuring that all documented policies and procedures are relevant, readable and accurate, and that all staff are engaged and aware of the policies and procedures.
'I want to make sure we all go on this journey together rather than just the managers,' said Pat - and that starts with how staff refer to one another. Instead of managers, staff in the department will know each other as leaders and team leaders.
The impact of Covid-19 highlighted where improvement was needed in the department but she sees this as an opportunity: 'It's about learning from the mistakes and making sure that we fill in the gaps and we put the right things in place for the next set of people coming in.'
Staff wellbeing is high on the agenda, with virtual and physical support available. From face to face counselling to daily team meetings and other forums, an open door policy is the norm. 'We had members of staff witnessing patient deaths and dealing with things that I've seen several times in my career, but over a 35-year span.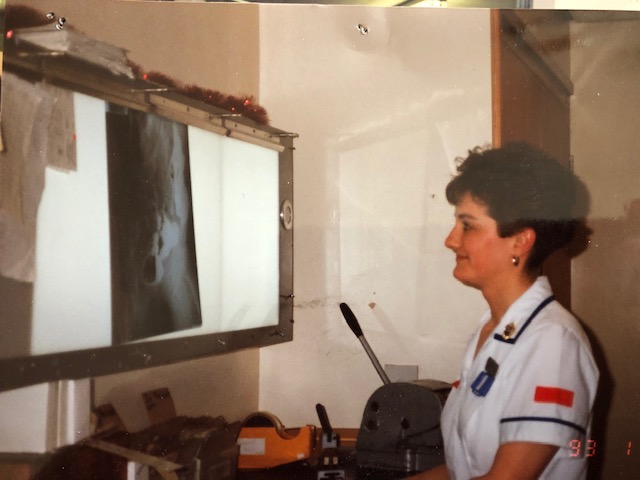 'Here they are in post for a couple of months and dealing with resuscitated patients that other people in the department for 20 years may not have witnessed. So, it's been pretty hard on a lot of them. The staff have just been absolutely amazing, as I'm sure they have across the country.'
The upside of coronavirus, she says, is that radiography is getting the recognition it deserves. 'Investment will hopefully increase and we can finally deliver the service that we want to deliver with some decent equipment.'
Image right: Pat Hudson in the early days of her career.
'We're short staffed, there's been very little investment in imaging generally across the country, and Harrogate in particular is suffering now from that lack of investment. But hang in there, I think things are going to improve.'
Pat is aware she might be criticised for working her entire career in one place, but is unrepentant. 'I always wanted to do the best that I could, because I wanted it to be a place that I would be happy to take my family and friends for treatment. I am proud of the fact that I worked in my local hospital. I've had a very, very varied and interesting career.'