Jean became President as I joined Council in July 1986. I had not met her previously although I knew of her work in the ultrasound world, and we worked together on a number of ultrasound matters.
Jean took pride in the fact that she was a clinical radiographer at Senior II level who was also elected to the Office of President - not so much for herself but because it meant that 'if she could get there then so could others'.
She was right to be proud as, at the time, those elected to the office tended to be towards the top of the tree within the profession. Indeed, she was the immediate successor to Anne Drummond, a District Superintendent and a quite formidable individual.
She was a forthright, down to earth person who had no time for airs and graces, or tantrums - to her Council was a serious responsibility and a job of work that needed to be done rather than an opportunity to gallivant and hobnob in London.
She was a hard worker on Council and, I'm sure, in her region, but hard work was natural to her so you never heard her complain about Council Members' workloads, even though it was tough juggling her clinical job, Council responsibilities and a sizable family.
Actually, family was the cornerstone of Jean's life and always came first even though her four children were adults by the time she became President, and Jean really enjoyed the fact that Keith, her Husband, was able to accompany her on a number of her presidential visits.
One of the other things I remember about Jean is her thriftiness - she knew both the cost and the value of things, and had no time at all for fripperies.
By the time I came onto Council, she had become well known in the ultrasound field, and had developed international links. She was a guest at an ultrasound conference in Finland in 1987, and had done some work with the American Registry of Diagnostic Medical Sonographers (I think that led to me speaking at the 2nd World Congress of Sonographers in Washington in 1988, thank you Jean!).
Within the UK Jean was instrumental in setting up the National Association of Sonographers, which was one of two national groups at the time (the second was the British Sonographer Association) and, eventually, they merged to form the UK Association of Sonographers until it eventually merged with the CoR.
At the time, the Society's role in sonography was much contested by others and Jean did a great deal to bring the various vested interests together. One of her strengths in that regard was, again, her down-to-earth approach which helped pave the way for the NAS/BSA merger.
Jean and I maintained contact over the years and it was a privilege to join her funeral online - sad, though, that it's only after someone has died that you get to hear just how multi-faceted and full their life was.
It reinforced for me her care and concern for others - her family and radiographers (and a few other groups along the way). A full life, well-lived, and a real shock to hear that Covid-19 was the cause of her death.

Past President Olive Deaville writes: Jean was President the year before me and her dedication to the profession was evident in all she did. She was an advocate of radiographers who were undertaking ultrasound which was, at that time, a fairly new extension of radiographic skills.

SCoR chief executive officer Richard Evans writes: Jean was our President in 1986/87 and is still remembered fondly for her time on UK Council, as an influential member of the Yorkshire branch and for her active membership and enthusiasm for the profession throughout her career and during retirement.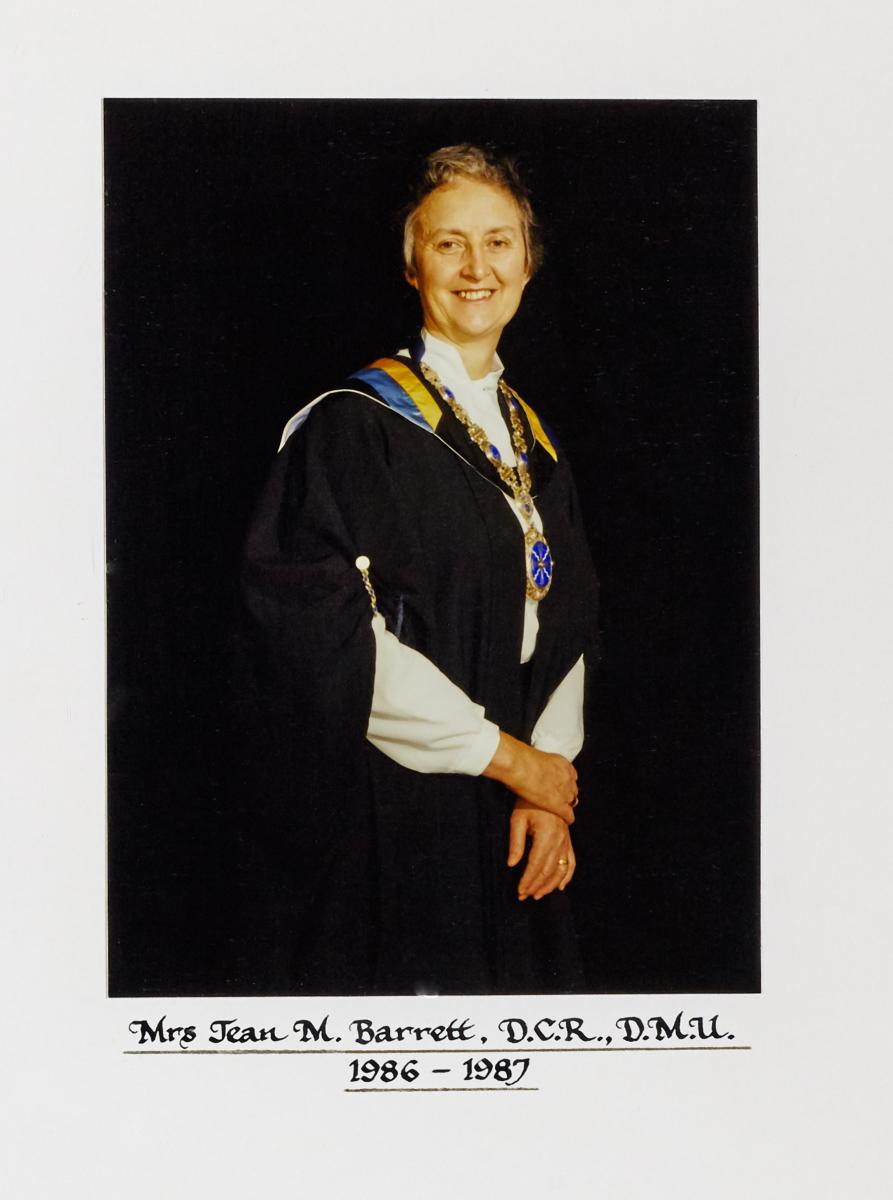 She was an active member of our Retired Members' Group for many years and took a keen interest in the history of our profession and indeed all aspects of radiology and radiotherapy history. She was a member of the British Society for the History of Radiology and on their Board for a number of years.
In relatively recent times, Jean was a familiar figure in our Head Office in southeast London as she collated and compiled a series of photo albums depicting the history of the organisation using photographs and paper artefacts from our collection. I know that this has been a valuable resource in the recent writing of a formal history of the Society of Radiographers in its centenary year.
I hope Jean's family, and her many colleagues and friends, will be able to feel genuine pride and satisfaction knowing of her enormous impact within her profession, as they remember her now.