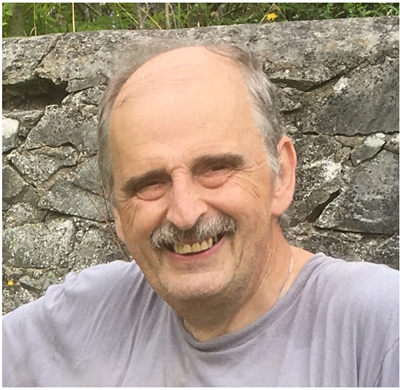 It is an honour to write this tribute to Paul Selmic - a friend, colleague, leader, manager, husband, father, and brother. In whichever role we knew him, from whatever vantage point, he stood apart as someone we remember.
Professionally Paul was a well-known figure in imaging and wider NHS management in the East and West Midlands and will be missed by many.
Paul began his radiographic career at Chesterfield Royal Hospital as a student radiographer in October 1971 where he trained until qualification in April 1974 at the Sheffield School of Radiography. The superintendent radiographer there once informed Paul that he would never make Superintendent because he had forgotten to wind the clocks (a job given to him mainly because at six foot seven he was the only person tall enough to reach them!).
Paul proved that prediction wrong when, after moving to Nottingham General upon qualifying, he was soon promoted to Superintendent III in July 1982, gaining his HDCR that same month. No mean feat in those days when the Higher Diploma was a one-year intensive course across six subjects.
Paul stayed at Nottingham hospitals until January 1985, when he moved to Selly Oak Hospitals in Birmingham as District Superintendent Radiographer with responsibilities for imaging departments across South Birmingham hospital group. During this time, Selly Oak and Queen Elizabeth Hospital Birmingham merged to become University Hospitals Birmingham where Paul became the District Superintendent and the General Manager for Imaging.
In the late 1980s and throughout the 1990s, many Birmingham hospitals were part of a reorganisation of services, involving a significant movement of imaging staff which Paul led and coordinated as District Superintendent for Central & South.
He frequently delivered hilarious anecdotes about his early professional career, together with a deliberately broadened Derbyshire accent and funny tales of caravan holidays at a place called "t' Mablethorpe" which had us all in stitches.
In August 2000 he returned home to his beloved Derbyshire with wife Win and their family to take up the post of District Superintendent and Imaging Manager for Southern Derbyshire. He was also able to realise a long-held dream by buying a smallholding.
Paul's new role involved primarily reorganising the existing NHS organisations and associated hospitals, including a wholesale merger of imaging services and the building of a new PFI Royal Derby Hospital.
Sally Ames and I joined Paul in 2001 from Birmingham as Site Superintendents at the Royal infirmary and City General Hospitals. To our surprise we learned that Mablethorpe did indeed exist, and Paul picked up where he had left off with his caravan holidays!
As time moved on Paul became instrumental in designing what would evolve to become the current Imaging Department at the Royal Derby Hospital. He also Chaired the East Midlands Radiology Managers forum for many years, creating a valuable forum to provide strategic thinking and collaboration between Trusts.
Paul continued to gain recognition in the wider hospital group, earning promotion to the post of Operations Manager in Assessment and Diagnostics. His later career saw him in the role of Operations Manager in Surgical Services, then finally as General Manager in the Cancer Services Business Unit before retiring from the NHS in July 2015.
Sadly Paul became unwell with serious illness immediately after retirement. He fought his illness with his usual clear-minded determination and self-deprecating humour, and fully enjoyed his time on the smallholding with his beloved family until his illness became unstable in December 2020. He succumbed on 15 January this year.
Paul will be remembered as a caring and beloved family man, a cherished colleague, a leader, and above all a friend. He will be missed by many, and will be forever remembered by those who were fortunate enough to have worked closely with him.
Our thoughts are with his wife Win and the rest of Paul's family at this sad time. They have set up a Gift of Hope page in Paul's memory, so that anyone who wishes can make a donation to the British Heart Foundation.