Moira Crotty has had a wide-ranging career: starting out as a diagnostic radiographer, she progressed to nuclear medicine before settling into the world of imaging informatics as the profession underwent the massive change from film to digital imaging.
For someone who has had such an influential role in the development of radiography in the NHS, it is interesting that her decision to enter the profession was mostly made by chance.
"I started training in 1982 and actually I didn't want to become a radiographer," she reveals. "I was casting around for something to do and my mother happened to be friends with a radiographer, who said: 'Well, how about radiography?' So it was coincidental, really."
Moira trained at East Leeds School of Radiography, qualified in 1985 and headed down to London's Royal Marsden Hospital for her first job.
"There weren't an awful lot of job opportunities in the north, so I thought: 'Well, I'll go to London instead, then,'" she says. "I wound up at the Marsden, which was very interesting at that time and I think probably still is today. It is really significantly different from most big teaching hospitals. It's what we used to call a tertiary referral centre or postgraduate referral centre. And they have a completely different vibe and a different atmosphere and different amounts of money. That was quite interesting and obviously there was a very specialist patient cohort.
"It was doing very cutting-edge stuff. There was always research going on, which was fascinating. And we used to get a lot of the newest toys to play with because the suppliers were interested in saying: 'This was tested at the Marsden'.
"The Marsden had one of the first MRI scanners, for example, in the country. I worked in the isotope scanning department and we were literally loaned pieces of equipment by GE for six months at a time. They'd come and install it. We didn't pay for it. We used it for six months and then we sent it back with a kind of test report. So we had a lot of quite nice new kit, which was lovely."
Nuclear medicine
There followed a move to St George's Hospital in Tooting, south-west London, to pursue a growing interest in nuclear medicine. "I went with the very specific aim of getting myself on the diploma nuclear medicine course. It's one of those things that, at the time, you could go into as a therapy radiographer, so I worked with therapy radiographers, a diagnostic radiographer, a physiological measurement technician or a medical physics technician or clinical scientist. They had a wide range of people who did that kind of scanning and testing."
Does Moira think there are particular risks to working in nuclear medicine?
"It partly depends on where you work and how you work. So if, as a radiographer, you don't have any contact with the process of getting the isotope into the patient, your risks are relatively low because the radiation emitted by the patient is relatively small. However, if you do have a role in actually handling the radioisotope, loading it into a syringe and injecting it into the patient, then the risks are slightly different because you have to be trained in how to handle it. We had to use syringes that had lead syringe covers on them, which makes them a bit tricky to manoeuvre. So, yes, extra training is definitely required. And that is still true."
The move to informatics
Despite finding the work interesting and engaging, it soon became clear to Moira that opportunities for career progression in the clinical world were limited.
"It was apparent to me that there weren't many routes beyond that point. The only career routes open then were into sales – which I knew I was never going to be any good at – or radiology service management," she says.
"At that time, advanced practitioners didn't exist. Consultant practitioners didn't exist. I briefly considered doing ultrasound but that wasn't really an option, for various reasons. So I decided to do a master's in informatics from 1994 to 1998."
The advent of PACS
After completing her master's degree, Moira soon found herself working in the emerging field of picture archiving and communication systems (PACS), which was about to revolutionise the world of radiology.
"I did some work at St George's on its PACS. But then I eventually took a job in Manchester on its first PACS. Basically, my whole career direction then changed into
imaging systems. So I think Manchester was probably the last place where I ever touched a patient.
"I also trained as a project manager because I was putting in these big systems and running the change that goes with it. You know, being a radiographer is a great set of skills but it's not the same as being a project manager.
"The other thing about being a project manager is that jobs come and go much faster. So after that I moved over to Yorkshire, which is where I'm from originally, and did a similar kind of job for a trust there for 18 months or so."
Moira soon found her skills in implementing local PACS were much in demand when the national programme arrived in 2004.
"They were desperate for people who had experience of PACS because we were quite rare. So I worked for the NHS side of the national programme."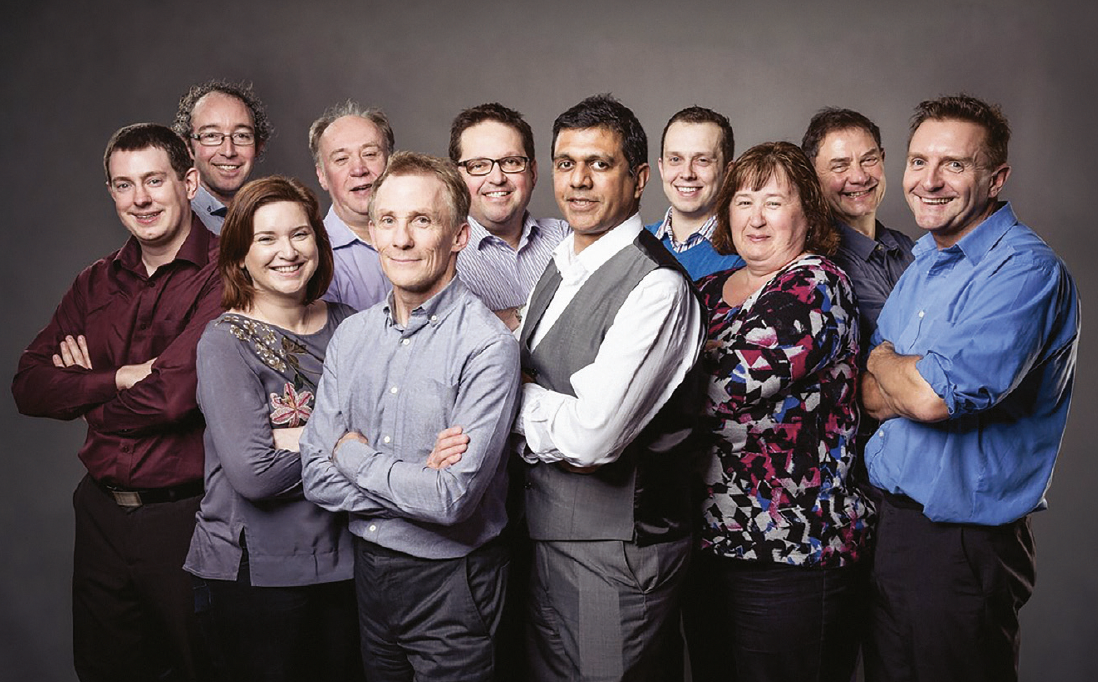 Moira (3rd from right) with fellow members of the the SoR's Radiographic Informatics Advisory Group
And was there an issue with interoperability between sites?
"Yes and no. So we were very well served. I don't know if you're aware that if you talk about CT scanners or MRI scanners, there are 10 or 15 possible manufacturers of the scanners out there. And in an average hospital, in an average imaging department, they'll probably have three Siemens scanners and two Philips and one from GE, and so on.
"So the suppliers of electrical equipment and manufacturers in the US got together and said: 'We've got to come up with some standardised way of exchanging information.' So in collaboration with the American College of Radiologists, they invented a thing called DICOM – Digital Imaging Communications in Medicine – which is effectively the global standard for exchanging images.
"What's interesting – and I've been doing it a long time now – is that you set out to solve a problem, such as 'Can I see your images?' And I can use DICOM. And now you can see my images. Then, a microsecond later, they're saying: 'So, come on, manipulate it,' then, 'Do something
else with it.' Immediately, you've got another requirement."
IT and the NHS – a poor track record?
Does Moira think the reputation that big NHS IT projects have for being costly failures is justified?
"I don't think it's fair to characterise it as failure. Everybody likes a bad news story but I think the national PACS programme was the bit that did succeed. But people can't always articulate what they want until you tell them what they can have. It's very difficult to tease out of people what they want the system to do, because they don't know yet, because they haven't seen it yet. Also, what you're imagining in your head when you're describing something is, unfortunately, not the picture that's forming in my head.
"So I build according to the picture in my head, but it's not quite what you had in mind because we haven't got the language of communication sufficiently right. I think that's part of it. Also medicine is as much an art as a science and computers are really poor at art. They're just not made for it."
Retirement
As she prepares to power down her NHS laptop for the last time, Moira says she still misses patient contact, even though she moved away from clinical work many years ago.
"I miss the camaraderie and the immediacy of being able to help patients. I've been working on projects that won't bear fruit for two years. IT can be a homeworking dream or a nightmare, depending on your point of view," she says wistfully, while expressing huge admiration for the clinical staff who worked through the pandemic.
"My plan at the moment is to spend three months doing nothing," she laughs