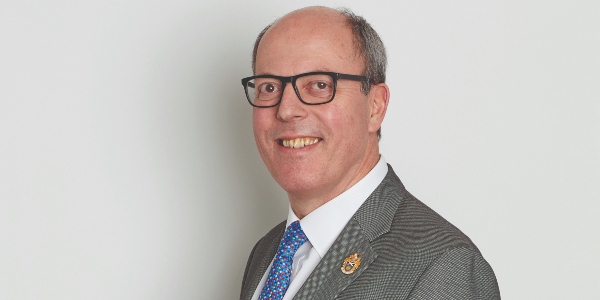 The CEO of the Society of RadiographersRichard Evans has made a guest appearance on Greg James' Radio 1 show to promote radiography, after a chance encounter with popstar Dua Lipa.
Mr Evans was interviewed by star host Greg James during the flagship Breakfast show on Wednesday, 15 November, a week after he was stopped in the street by Mr James and Dua Lipa as part of a promotional stunt for the latter's latest single.
On Wednesday, 8 November Mr James and renowned singer-songwriter Dua Lipa were on the hunt for someone to listen to Dua Lipa's latest single outside the BBC's main offices in London. Mr Evans was given the chance to listen to new single "Houdini" as an exclusive sneak preview.
Mr Evans was approached on the streets outside the BBC with the offer of hearing the song, which he described as "excellent", "bouncy," and "enjoyable."
"It would be impossible not to like it," he added. "I'd definitely dance along to that."
Community support
Following an outpouring of support from radiographers after the impromptu interview was shared on X (previously Twitter), Greg James invited Mr Evans back to discuss the radiography profession in more detail on Breakfast with Greg James this morning.
The presenter said: "What a big fuss you have caused in the comments, Richard. The radiography community really does have your back."
Rad Chat (@rad__chat), a radiographer-led therapeutic oncology podcast, said on X: "We love that everyone is loosing their minds over Dua Lipa and her new song and every radiographer in the country is like 'oh wow it is only the infamous Richard Evans, CEO of the Society of Radiographers! Seriously Greg James you have surpassed yourself here! #worldradiographyday".
Radiotherapy UK (@radiotherapy_uk) posted: "When Dua Lipa and Greg James got to meet the legendary Richard Evans - they managed to hold it together in his presence but only just! We love this and the song's pretty good too! #Houdini".
'It's my job to have their backs'
During his radio interview, Mr Evans thanked the radiography community for their support and recommended Dua Lipa check the SoR website for more information, resources and news on the profession.
"It's my job to have their [the radiography community's] back, so it's really nice that everyone's come out and made the comments," he said. "Radiography doesn't get very much airplay, however hard we try.
"I'd like to say 'hi' to all radiographers listening, thank you for your support, and keep doing the good work."