I am humbled and honoured to be your President of Society and College of Radiographers at this difficult and strange time. I am a radiographer to my core and being a registered radiographer for over 35 years is one of my proudest achievements.

Before starting training in 1982, I wanted to work in a caring profession, so I attended the local hospital at Bridgend to find out about radiography and spent a few days shadowing radiographers on work experience.

I was undeterred by observing the lists of Barium enemas so applied for Diagnostic Radiography and was accepted into what was then the South-West Wales School of Radiography based at Morriston Hospital near Swansea.

The school was run by John Ball and Adrian Moore, authors of the yellow Essential physics for Radiographers book – still in print and available 38 years later.

My clinical training was based mainly at Morriston Hospital and most of the staff there were marvellous, friendly and encouraging. We all remember those who take an interest in us and one of my catchphrases is 'aspire to be one of the Inspirational'.

My First Job
I qualified in the Diploma of the College of Radiographers in 1985 and started work at Morriston Hospital on 22 July 1985 as a qualified diagnostic radiographer, registered with the CPSM.

I gained the Diploma in Radionuclide Imaging in 1989 at Bristol School of Radiograph, and moved to the Royal Gwent Hospital in Newport as a Senior Radiographer with responsibility for Nuclear Medicine and interventional radiography. In 1993, I moved again to Neath General Hospital as a Superintendent Radiographer, running a new CT and Nuclear Medicine department. I continued to study and gained my MSc in Healthcare management at the University of Glamorgan in 1997.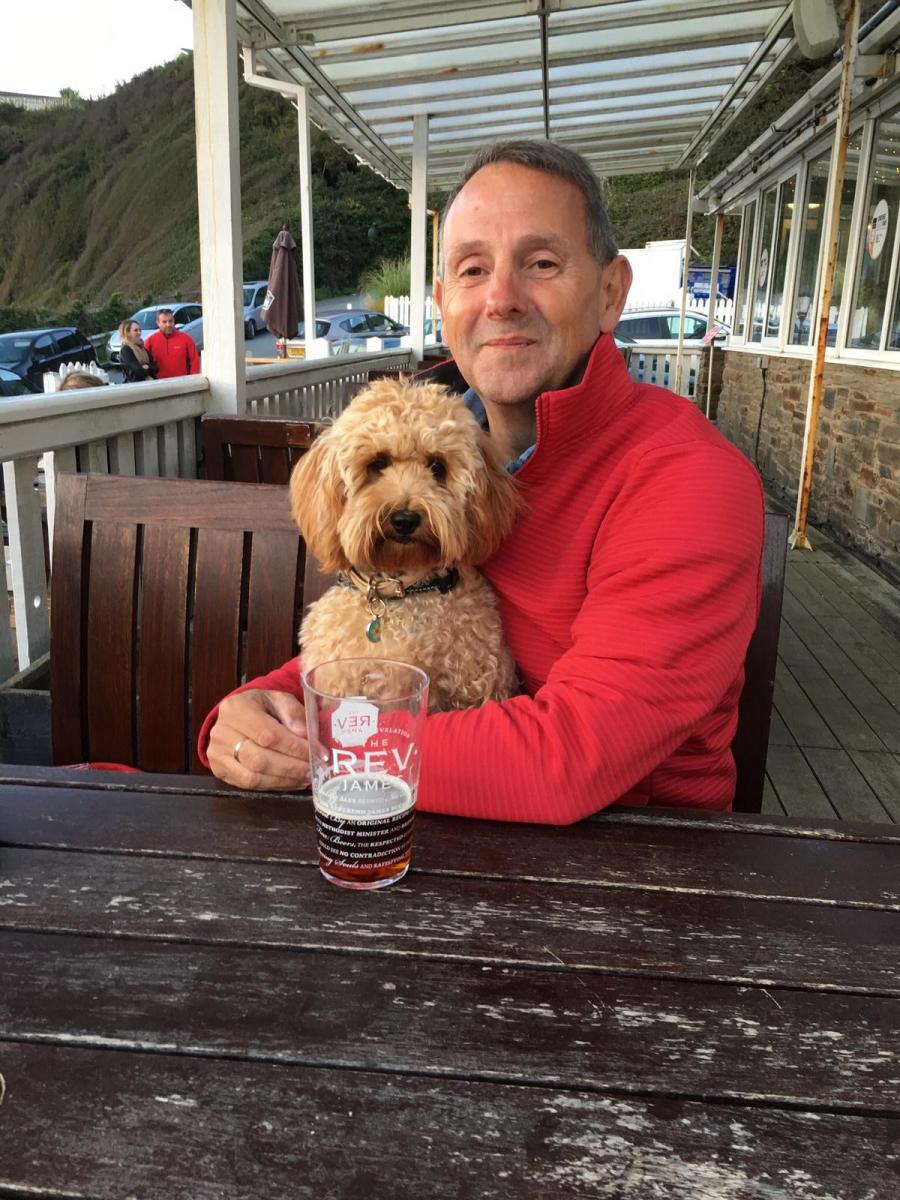 In 2000, I moved on to be a Radiology Manager at the Royal Glamorgan Hospital, one of the first PACS hospitals in Britain and worked closely with Kodak, who became Carestream and more recently Phillips in our PACS enterprises.
Radiology managers became directorate managers and in 2019 after reorganisation I moved on to take up a secondment opportunity with the Strategic Programme Unit of the NHS collaborative in Wales. I now work on imaging workforce and education across Wales but more recently have been supporting Imaging Essential services in Wales as we wrestle with the effects of Covid on our diagnostic services.
Image right: Chris and dog Peggy.
Joining UK Council
I joined SoR Welsh Council as a management representative while a manager at Royal Glamorgan and Chair of Welsh radiography managers committee. I attended and spoke at ADC in 2015 and then a vacancy became available on the UK Council to represent Wales. I was elected and attended my first meeting in November 2015.

UK Council was very welcoming and the council members support each other and the society to ensure we remain solvent as an organisation. I pitched into interests such as the Nuclear Medicine Advisory Group and have tried to ensure the governance of our trade union, professional body and college charity is robust. I believe we have made substantial progress in supporting members radiographic interests.

Recently the Society has been engaging with the Black Lives Matter campaign and BAME members interests, I have taken part in panel webinars where we had sometimes challenging engagement with members. I hope members feel that the Society is engaging, listening and trying to progress BAME issues in appropriate ways. We need to look after and promote all of our members' interests equally and ensure they are treated equally in the workplace. I believe the SoR is here to look after people, both members and the public.
Support Your Society
Radiographers discuss and produce visions, purpose, priorities, and enable transformation, but these may be only written documents or ethereal ideas unless we engage actively with our patients. We must further develop our own education, and enact changes with our management colleagues that improve patient care.
The Society's directors, staff and UK Council cannot do this on their own.

We need active Society members who contribute to discussion forums and consultations, who make evidence-based changes, while also developing their professional responsibility and roles - so please get involved with your Society.
My philosophy
My NHS care philosophy is simple: 'Radiographers look after people'. We do this by using highly technical equipment and techniques in providing diagnostic examinations or therapy for our patients.

Together, radiographers do amazing things, providing highly technical patient care with an empathetic human face. Radiographers must continue to take pride in our profession, to deliver best care through research and evidence based practice to ensure that patients all continue to receive the very best care we can provide.
Our future leaders need us to help and support them – we are all examples to our colleagues. Anyone can be that role model. Aspire to be one of the inspirational.
Image above right: Chris speaking at the TUC Congress in 2018.

On the beach…
Outside of work, I enjoy walking the coastal path in Wales with my wife Sian and our dog Peggy. We are very lucky to live in a beautiful part of the world, quite rural, only a few miles from the Heritage coast and within easy reach of the Brecon Beacons National Park Mountains. The stunning Welsh environment definitely enhances our lives and having a dog who enjoys the walks so much ensures we are out regularly rain or shine.
We have enjoyed the garden during lockdown too and it's great to have outside space to relax in. I love to see live music and have been going to concerts since the early 1980s, ans also enjoy films and reading. We enjoy travelling very much, both beach holidays and city breaks around Europe.

Family is a definite focus and I really appreciate the love and support of Sian, my sons David and John, my Mum and Dad - Dad passed on last year but knew I was going to be President - my niece Alex, and my sister Alison.

Image right: Chris and Sian on the beach in Oxwich Bay, on the Gower near Swansea.