Every morning the entire trauma team meets to discuss all the new patients who have been admitted to hospital - known as the 'trauma meeting'. I had conceived the idea of a painting some years ago that showcased the different team members in our department involved in delivering patient care. I felt this painting would encompass two huge factors in my life: surgery and art.
I approached members to see if they would agree to model for me and, despite some slightly nervous responses, they were up for it! I wanted a radiographer to feature and I have worked with Lindsey for many years now. She has taught me many things about how to get the best X-ray images and is extremely skilled at wielding the large and cumbersome C-arm with immense dexterity.
I managed to get my subjects together weeks before any Covid-19 restrictions were implemented for a photo-shoot and, looking back, I was so thankful we were able to do this.
The shoot itself was very good fun and the sitters were receptive to my direction and really went for it. I took inspiration from a number of different sources, particularly art of the Renaissance period from painters such as Da Vinci and Caravaggio, as well as historical paintings depicting healthcare workers.
I wanted to paint something in that style yet juxtaposed with modern subjects, clothing and context. These ideas informed the overall composition of the painting and placement of the team members.
The completed painting is titled 'Trauma' and is oil on canvas (100cm x 150cm). It depicts a scene representing multiple healthcare workers treating a patient. In the centre of the patient, on the table, is the patient draped and prepped for an operation.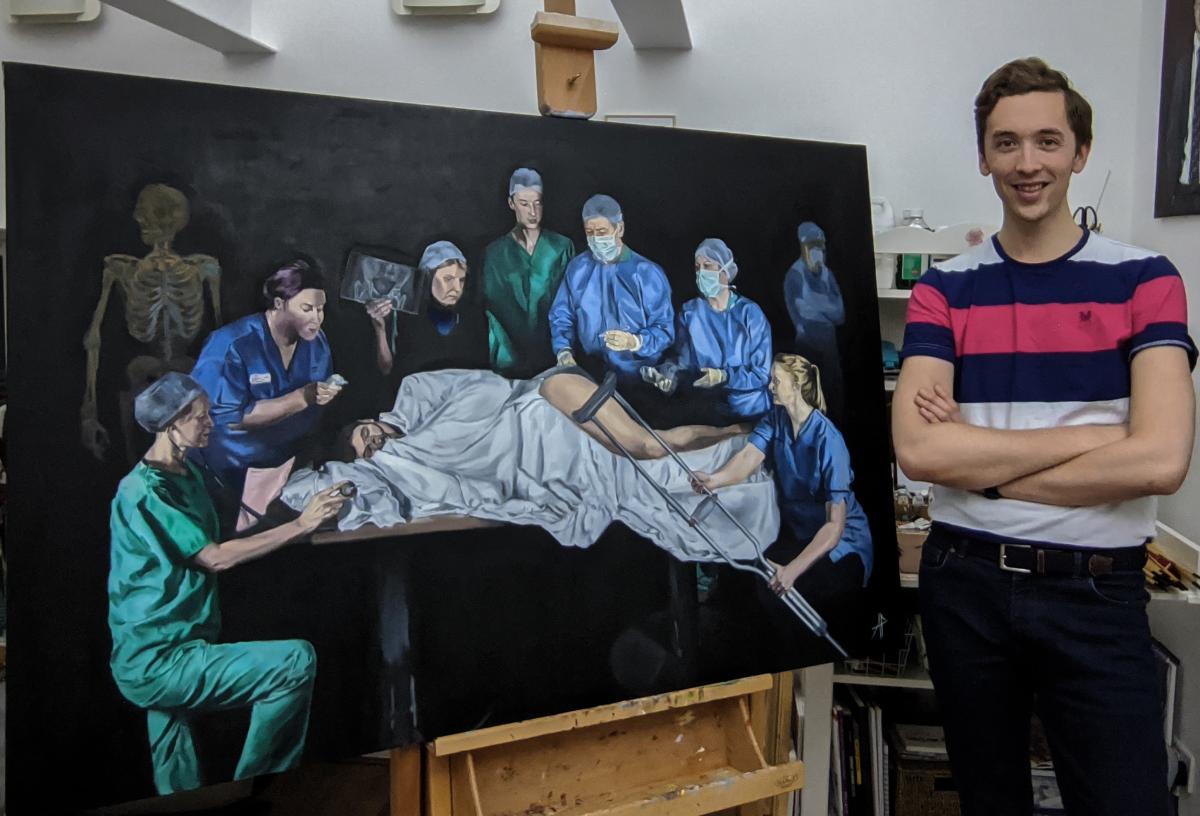 Surrounding the patient are (left to right) Dr Joanna Lynch, Consultant Anaesthetist; Sarah Cant, Advanced Trauma Nurse Practitioner; Lindsey Fulton, Senior Radiographer; myself, a Trainee Trauma and Orthopaedic Surgeon; Fraser Harrold, Consultant Trauma and Orthopaedic Surgeon; Jemma Cathro, Surgical Charge Nurse; Caroline Hutchison, Physiotherapist; and the patient is Peter Davies, Trainee Trauma and Orthopaedic Surgeon.
As the pandemic began and lockdown ensued, the painting took on a special significance. I started to consider the painting as a record of the times and I included two additional subjects. The skeleton represents our specialty and death, while the figure in PPE on the right of the canvas is Covid-19 personified.
The patient is about to undergo a hip operation and Lindsey is holding an X-ray demonstrating a broken hip. I felt my vision was realised in a painting that celebrates this team despite the ongoing external challenges.
Working on the painting throughout this pandemic took on a new urgency and meaning. It gave me focus and provided a sense that I was not alone.
Alastair Faulkner is a Trainee Trauma and Orthopaedic Surgeon, and Lindsey Fulton a senior radiographer, both at Ninewells Hospital, NHS Tayside, in Dundee.
'I have known Alastair for a number of years, working with him on a regular basis in Ortho Trauma theatre', writes specialist radiographer Lindsey Fulton. 'Little did I know that not only is he a talented surgeon but also an amazing artist.

'When he contacted me to ask if I would like to be involved in a trauma painting, I have to say I was slightly apprehensive because I had never done anything like that before. I also felt quite honoured to be included in this fantastic trauma team painting, to be representing the profession I love and the job I am so passionate about. So often radiographers are forgotten about, so for myself it really was a great honour.

'The painting itself is so emotive with the patient being at the centre of everything we do. I think the addition of the ghostly Covid figure lurking in the black background in PPE really struck a chord with many of my colleagues and the struggles we have faced over the past months.

'I do think the painting fantastically summarises the multidisciplinary teamwork that happens on a daily basis with the patient always at the forefront of each individual's mind, ensuring that the highest quality of care is provided.'