Artificial Intelligence (AI) in diagnostic imaging began with the introduction of Canon Medical UK's AI-assisted CT and MRI systems using a Deep Learning reconstruction algorithm called Advanced intelligent Clear-IQ Engine (AiCE).
This differentiates 'noise' from true signal to clean up images resulting in high-quality scans free from distortion. It helps to preserve edges, improve textures and maintain details to assist with clearer clinical interpretation. It also reduces the need for image retakes and is at a much lower patient radiation dose than offered before. It is now being used by dozens of hospitals across the UK bringing benefits to patients.
"Artificial Intelligence in imaging is about solving many of the challenges in modern healthcare. This includes providing the tools to help clinicians make confident decisions faster when faced with growing backlogs; to help simplify workflows that can optimise staffing and equipment resource deployment; and about reducing the stress and exhaustion on health professionals," states Mark Hitchman, Managing Director at Canon Medical Systems UK.
Solving the challenges in healthcare with faster, confident decision making
Beyond AI-assisted imaging, Canon Medical UK has started rolling out AI and automation applications for imaging diagnosis that drill into specific disease conditions. For example, the automation of stroke diagnosis has the potential to streamline stroke-related workflow by automatically consolidating results into a single summary and alerting for abnormalities. This can help to swiftly analyse and categorise images to detect signs of ischemic and haemorrhagic stroke in minutes and has the potential to provide access to information that can speed up the administration of life-saving treatment.
To learn more AI-assisted imaging visit Canon Medical's CT webpages here and the MR section here.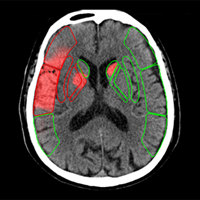 AI can nowanalyse and categorise diagnostic brain images automatically following a CT scan, with zero user clicks, to detect signs of ischemic and haemorrhagic stroke in 30 seconds. This can help with scoring of early ischemic stroke signs that are routinely challenging to detect.