Society past president Claire Donaldson today addressed delegates at the TUC Congress in Brighton on the need to address the gender pay gap and its impact on pensions in the public sector.
Claire spoke in support of a motion submitted by the Educational Institute of Scotland which said that closing the gender pay gap must be a higher priority for the government, employers and the trade union movement.
"It won't be a surprise to learn that historically the public sector pension schemes discriminated against women – the original models assumed women cashed in their pension upon marriage; part time low earners were encouraged to opt out and all final salary schemes benefitted those most likely to accrue a full pension and achieve a higher final salary. In other words men! " she told Congress.
She went on to quote statistics which show that the NHS employs 1.5 million people, 77% of which are women. In 2021 of those men employed in NHS England 78% were earning the upper middle and upper quartiles of pay.
Holding down salaries
"The effects of the government's policy of underfunding pay in the public sector over the past 12 years are blatantly obvious across all sectors. Those of us working in health have been subject to the policy of holding down main grade salaries covered by the governments Pay Review Body which has eroded the take home pay and the differentials between grades. This not only has a negative impact on recruitment and retention, but also on the economy as a whole," she said.
She said that pay and pension reform must top of the agenda when addressing the recruitment and retention crisis engulfing the radiography profession and the wider NHS.
"We need to attract more people into the profession, we need them to want to work in the NHS, and once they're in we need them to stay. Currently a graduate radiographer in England after 3 years is still earning under £30,000 per year – around £10K less than a graduate accountant with Deloittes."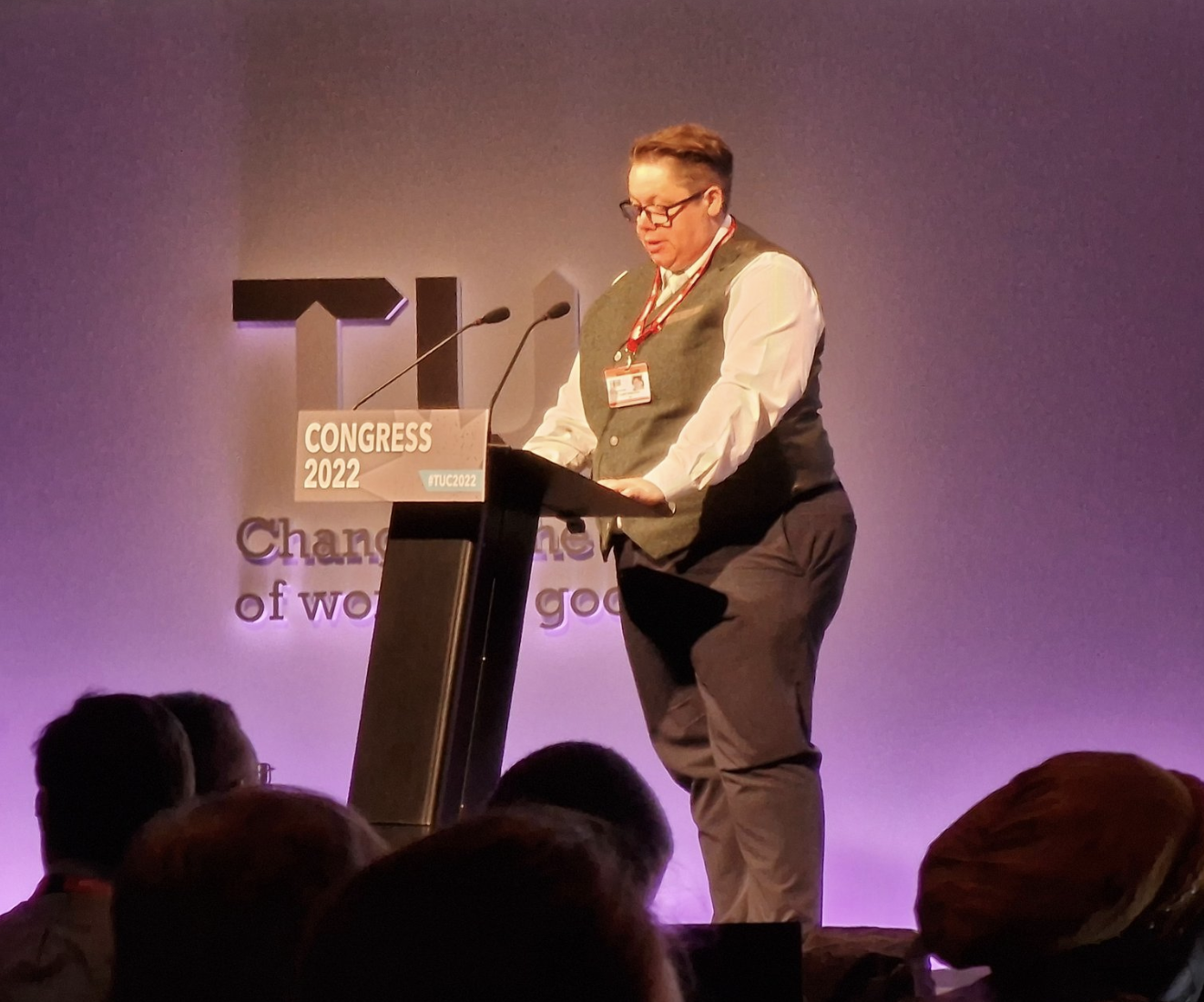 Claire Donaldson addresses TUC Congress 2022
Cosplaying Maggie
Claire concluded by criticising the current government's apparent attempts to 'turn back the clock' on public sector pay negotiations.
"With Liz Truss in number 10 cosplaying Maggie Thatcher we have to anticipate that her government will continue with the campaign of undermining and undervaluing public sector workers and their pensions. She has given no indications that her management of public sector pay and public sector pension reforms will do anything other than turn back the clock and impoverish women workers in the public sector for generations to come, and this must be challenged."