Local news outlets were critical in delivering the messages of the SoR strike action to communities across the UK, reinforcing the general coverage on national news channels.
The SoR said the strike had generated 'unprecedented' levels of news, raising the profile of the Society and profession in the eyes of the public, and helping to build a groundswell of support as the SoR called for the government to re-open pay talks.
Across the UK, online media carried the stories of local radiographers who were struggling to make ends meet, and broadcast video footage and photography of SoR members protesting on picket lines at nearby hospitals.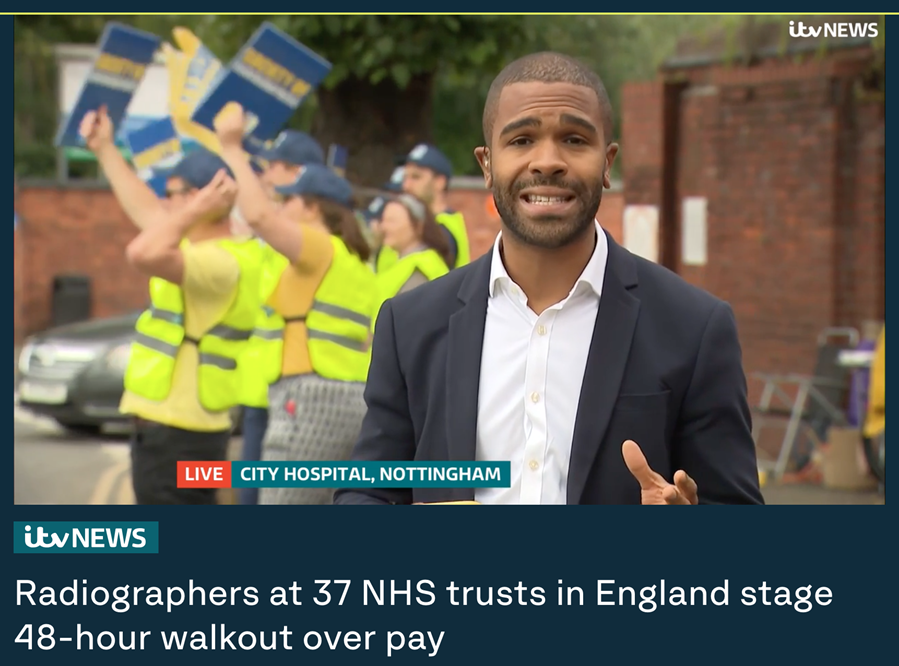 Nottingham
ITVX was broadcasting live from the the picket line at Nottingham's City Hospital as SoR members waved placards in the background. Watch the video here.
London
London News Online headlined with "I'm doing 50-hour weeks to make ends meet" and quoted a radiographer at King's College Hospital saying: "I'm senior staff and I have to work extra shifts at the weekend to survive".
Bristol
B24/7 carried photography of picketting radiographers at Bristol Royal Infirmary and reported a therapeutic radiographer saying: "We are really struggling to fill our roles, which is mirrored across the whole country. It's especially bad in Bristol because it's such an expensive city to live in."
Essex
The Colchester Gazette reported from the picket line at Colchester Hospital, quoting a radiographer who said she had no option but to strike: "I'm really passionate about and love this profession but it's a profession which is really struggling, and staff are leaving the NHS in droves because they're being paid better elsewhere."
Doncaster
The Doncaster Free Press heard from a Yorkshire radiographer how difficult it was to pay her bills: "I work 22.5 hours basic. But I probably do at least 40 hours a week. Some weeks I've gone up to 55 hours in one week. We're doing well in excess of double hours sometimes. And that's as a part-timer".
Liverpool
The Liverpool Echo spoke to a 30-year-old city radiographer who was still living with his parents: "That's just the reality of where we are. Even as a senior radiographer, I would find it very difficult to purchase my own home".
Suffolk
The Ipswich Star carried photography of the SoR picket line at Ipswich Hospital, and quoted a diagnostic radiographer on the problems of recruitment and retention: "We're seeing our colleagues crying on a regular basis and lots of people are leaving the profession".
Plymouth
In Devon, the Plymouth Herald spoke to a mammographer who said: "We're all working for what feels like pennies. Breast services have the funding, but other services don't have the funding to make things better, and the conditions are really, really bad."
Send us your photos, videos and links to media coverage that you want to share with the profession - email [email protected].

Images: Main images from Brighton picket line, Eva Slusarek