Radiographers took to the streets in Brighton on the first day of strike action by SoR members across 37 NHS trusts in England.
More than 20 diagnostic and therapeutic radiographers joined the picket line outside the Royal Sussex County Hospital to make their voices heard, backed by loud support from the public and NHS colleagues.
The SoR has called on the government to re-open the NHS 2023-24 pay round after the latest rises for public sector workers outstripped the earlier 5 per cent awarded to radiographers in England.
As the 48-hour strike began at 8am on Tuesday 25 July, health secretary Steve Barclay, who is refusing to speak to SoR representatives, said: "This pay award is final and so I urge the Society of Radiographers to call off strikes."
But on the Brighton picket line, striking radiographers were determined to continue their fight to secure better pay and conditions for staff, and safer services for patients.
"Radiographers had to think long and hard about whether to take this action, because of the impact on waiting times", said Marie Bullough, SoR regional officer for South East England (pictured below).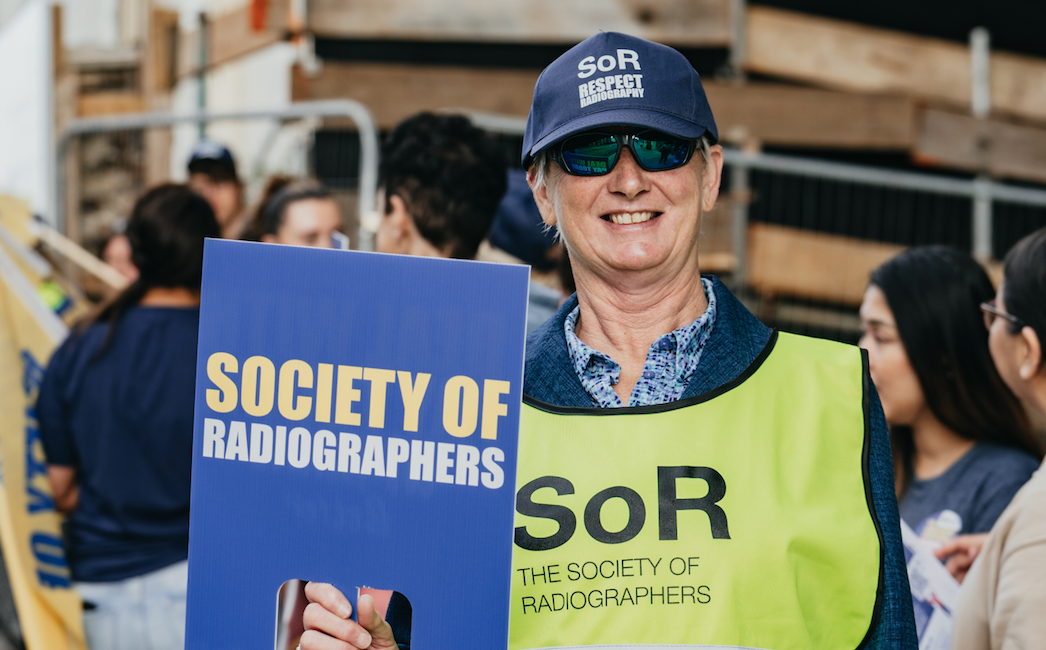 "But the feeling is very strong - radiographers are really angry and particularly because the government has accepted higher pay review body awards for other sectors having given us 5 per cent. Pay is the solution to all the problems, because better pay improves recruitment and retention and more radiographers means lower waiting lists".
Anthony Yip, waving a "Deal with pay today!" placard, has been a diagnostic radiographer for ten years and has only seen pay decline for radiographers over that period.
"Pay has fallen in real terms, workload has gone up, and staffing levels have been reduced while services are expanding. We are trained to a high standard but cannot provide the care we want to on a day-to-day basis."
Anthony said the government needed to "correct the historic wrong" of successive pay cuts in real terms: "Obviously the strike action is disruptive but the public seem to be supportive and they know what we are fighting for. It's for pay and for the whole system to be properly funded".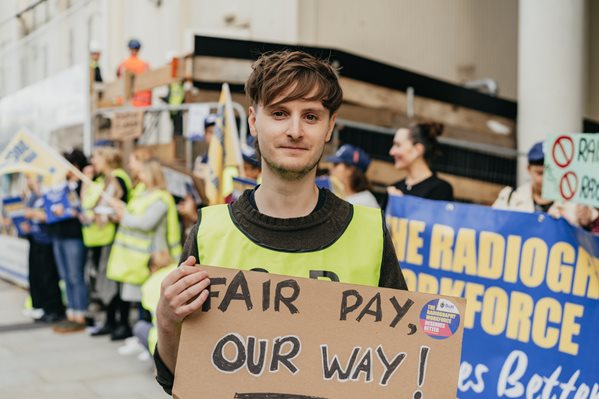 Diagnostic radiographer Matt Johnson (pictured above) is demanding "Fair Pay Our Way!". The radiography profession has been "brushed under the carpet" says Matt: "We have a specific role, that only we can do, and we are a profession that deserves a proper pay rise like the other professions".
Matt does not believe this week's strike will force the government to immediately change its view on pay but says that "affirmative action" is necessary to keep up the pressure.
"I think there will be strikes continuing into 2024, until there is genuine input from people who have the power to change things. It's going to keep happening, and rightly so."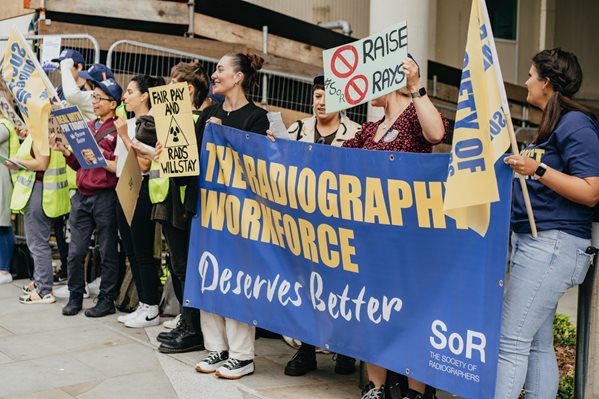 #RESPECTRADIOGRAPHY
Images: Eva Slusarek