The London North West University Healthcare (LNWH) NHS Trust Ultrasound Academy was pioneered by Tanuja Khiroya, head of diagnostic imaging & medical physics in 2017 to provide a dedicated training facility offering clinical placements in the fields of obstetrics and gynaecology, general abdominal, small parts and neck for ultrasound training.
The academy was funded by Health Education England, and further sponsorship was sought from industry partners MIS/Samsung and has grown from a two-room facility with simulation equipment to a three-room facility offering placements to radiographers and midwives who were employee of LNWH, Hillingdon Hospitals NHS Foundation Trust and North Middlesex Hospital, as well self-funding students. The majority of self-funding students, who qualified from the ultrasound academy are now employed at an NHS hospital.
The academy has also been supporting Specialist Trainee Registrars (SPRs) in general abdominal and neck ultrasound training as sonographers who are returning to practice.
The ultrasound academy team comprises experienced sonographers: Mohammad Haroon Qarib, lead practice educator; Sujata Patel, senior practice educator and Kamal Bambania, practice educator.
The practice educator roles have been achieved through further funding received from Health Education England.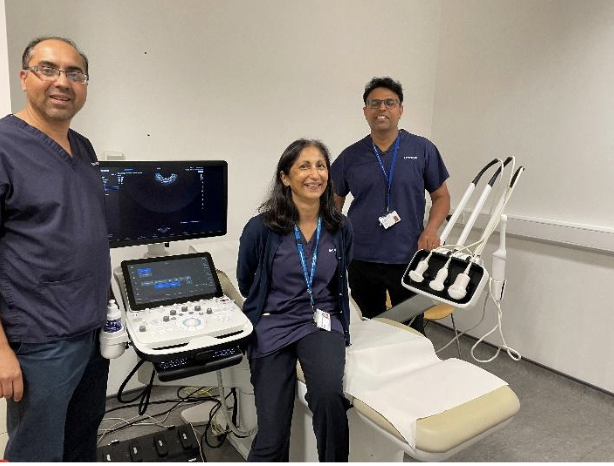 From left to right: Mohammad Haroon Qarib, Sujata Patel and Kamal Bambania
New opportunities
The ultrasound academy has continued to grow and has recently opened a fourth room and invested in further simulation equipment. The academy is now equipped with a new exciting ultrasound simulator (BodyWorks), which is an addition to the existing Scantrainer simulator.
This platform is an ultra-realistic simulator designed for interactive Point of Care Ultrasound (PoCUS) scenario training. It consists of over 100 cases using real patient scans, and over 10,000 pathology variations across cardiac, lung, transabdominal and pelvic ultrasound.
BodyWorks will add the following main new features to our simulator-based training:
Extend learning of complex diagnoses through scenarios. The Instructor Tablet will enable the tutor to run scenarios and easily change the patient's condition and level of severity to test assessment and decision-making skills. Using the tablet, the tutor can change the pathology, the severity of the pathology, patient's heart rate, and/or respiratory rate instantly on the ultrasound.
Perform true-to-life patient examinations and scan in real-time from the clavicle to the pelvis.
Customisable patient list will allow the tutors to create their own patient cases from any of the pathologies on the system and create tailored clinical information. Tutors can also easily access their own customised patients from the tablet, making exams highly variable in content and simple to run.
The Academy has sonographer trainees from the North West London sector Trusts in this years' intake, we are also offering training sessions to radiology trainees in NWL and have training sessions in the academy supported by Dr Alex Fitzhugh, Consultant Radiologist.
The ultrasound academy has aslo opened another door to offer clinical placement for the PGC programme in Musculoskeletal (MSK) ultrasound. The first trainee from Brunel University started his training in January 2022 with two more training placements being offered to two trainees from Imperial College NHS Trust who are planning to enrol for the PGC programme in MSK ultrasound.
Future developments
The ultrasound Academy team, in collaboration with sponsors, are looking to organise study days and offer clinical placements for advance practice in other fields. We are also looking at other training opportunities and collaborations with academic institutes to build on our current success and to grow the sonography workforce.