Sonographers administer only a small number of medicines to their patients, yet the legal framework which supports the administration process is complex and confusing. This brief article attempts to demystify the medicines framework for sonographers.
The Human Medicines Regulations 2012 (HMR 2012) define those professionals who, after training, can prescribe medicines either as supplementary or independent prescribers, and those professions which may supply or administer drugs using a Patient Group Direction.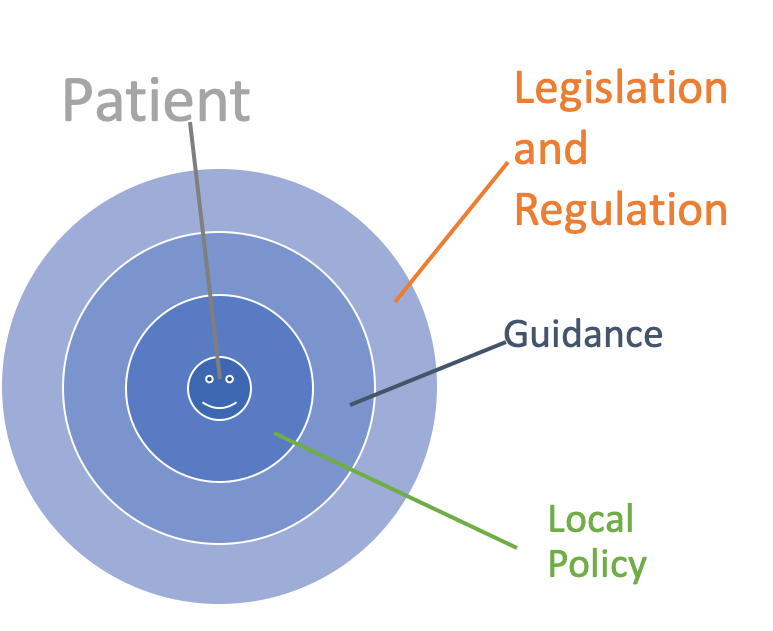 Patient Group Directions (PGDs)
A PGD provides alegal framework to supply and/or administer specified medicines to a pre-defined group of patients, without them having to see a prescriber.
Radiographers, registered nurses, physiotherapists or midwives working as sonographers are legally entitled to administer medicines using a PGD which contains clear and specific criteria against which the patient is assessed. Advice must be sought from a GMC registered medical prescriber for patients that do not meet the requirements of the PGD.
NICE provides a suite of guidance for PGD development and implementation. Sonographers who are not entitled by their profession in the HMR are not legally allowed to work to a PGD.
A PGD cannot be used to supply or administer unlicensed products. The MHRA states that the mixing of two separate medicinal products such as mixing a corticosteroid injection with a local anaesthetic injection before administration creates an unlicensed product. Both have a therapeutic purpose, and neither is being used as a vehicle for the other, eg as a reconstitution or diluting agent.
Patient Specific Direction (PSD)
This is the traditional instruction, signed by a doctor, dentist, or non-medical prescriber for medicines to be supplied and/or administered to a named patient after the prescriber has assessed the patient on an individual basis.
In law, anyone whom a prescriber has assessed as competent, has the necessary knowledge and skills, and has been delegated the task may follow a PSD. This could also be an electronic prescription. Any suitably trained sonographer may administer medicines using a PSD. There is no requirement for a sonographer to be on a statutory register.
The use of prefilled saline syringes for assessing the patency of a cannula after insertion is considered as using a medical device and does not require a prescription.
When sonographers administer medicines, this must be done using the right legal framework for their professional background.
GMC registered doctors
A General Medical Council (GMC) registered doctor working in ultrasound has few legal restrictions around medicines usage. They can prescribe, administer and manage patients' medication on a case-by-case basis. The HMR2012 and the Misuse of Drugs Regulations (MDR) 2001 describe the wide-ranging entitlements of doctors concerning medicines.
Non-medical prescribers
The scope of prescribing entitlement is clearly defined in the HMR 2012. For example, both registered nurses and physiotherapists are entitled to train as independent prescribers and can prescribe medicines within their scope of practice.
A registered nurse is legally entitled to prescribe unlicensed, off label and off licence medicines, plus any schedule 2,3,4 or 5 controlled drug (CD) (with very specific exceptions)
A physiotherapist can prescribe any licensed medicine for any condition within their competence within the overarching framework of human movement, performance and function, but is not legally entitled to prescribe unlicensed medicines and only has entitlement to prescribe from a limited list of CDs.
A diagnostic radiographer is entitled to train as a supplementary prescriber working to a Clinical Management Plan (CMP), which is a defined plan of treatment for a named patient agreed between an independent prescriber, the supplementary prescriber, and with the agreement of the patient.
The independent prescriber must be a GMC registered doctor (or dentist). Supplementary prescribers can prescribe unlicensed medicines and CDs where defined in the agreed CMP, and which falls within the scope of practice of the supplementary prescriber. A diagnostic radiographer cannot train as an independent prescriber.
Sonographers without statutory regulation or on the College of Radiographers Public Voluntary Register for Sonographers (PVRS)
A sonographer who has no professional regulatory status, or who is on a voluntary register (and this includes doctors trained overseas but who are not eligible for GMC or other statutory registration) may administer medicines using a PSD.
In this case, a prescriber is expected to assess the patient on an individual basis to generate a written PSD from which the sonographer may not deviate.
Professional guidance
Sonographers should take account of national and professional guidance and implement this through their local policies.
GMC registered doctors and non medical prescribers working in ultrasound should be guided by The Royal Pharmaceutical Society (RPS) Competency Framework for all Prescribers. This is an excellent resource for all prescriber and emphasises the responsibilities for those generating PSDs.
NICE medicines and prescribing centre provides a comprehensive suite of guidance, advice and support for delivering quality, safety and efficiency in the use of medicines.
This is further supported by professional body guidance and certification such as the College of Radiographers Certificate for Administration of Intravenous Medicines, other professional body guidance relevant to the professional background, as well as local training and education policies for administering medicines.

Consistency
Patients are largely unaware of the varied professional backgrounds of the sonography workforce. They expect that they experience a high-quality procedure with adequately trained and experienced staff. The Professional Guidance on the Administration of Medicines in Healthcare Settings supports a single standard approach, regardless of professional background, to the process of the administration of medicines underpinned by appropriate education and assessment of competence.
Core messages
Understand your legal entitlements based on your professional background and registration status.
Ensure this is reflected in your education and training, CPD, and the local processes and policies that you use.