Like so many events across the world, the European Congress of Radiology (ECR) had been held remotely since the pandemic hit. However, in July it returned as an in-person event to its traditional home, the beautiful city of Vienna. This year's theme was Building Bridges, apt for a conference "seeking to encourage greater collaboration amongst radiology stakeholders and the broader medical community".
Sonography day
For the first time, a team of European and British sonographers were invited to present a day of interactive ultrasound lectures organised by the European Federation of Radiographer Societies (EFRS).
Ruth Reeve, (pictured left) clinical specialist sonographer and clinical academic at Portsmouth Hospitals University NHS Trust, and Roxanne Sicklen (right), clinical specialist sonographer at the Royal Free London NHS Foundation Trust, both contributed to the day. As a specialist GI sonographer, Ruth presented a lecture on ultrasound of the gallbladder and biliary tract.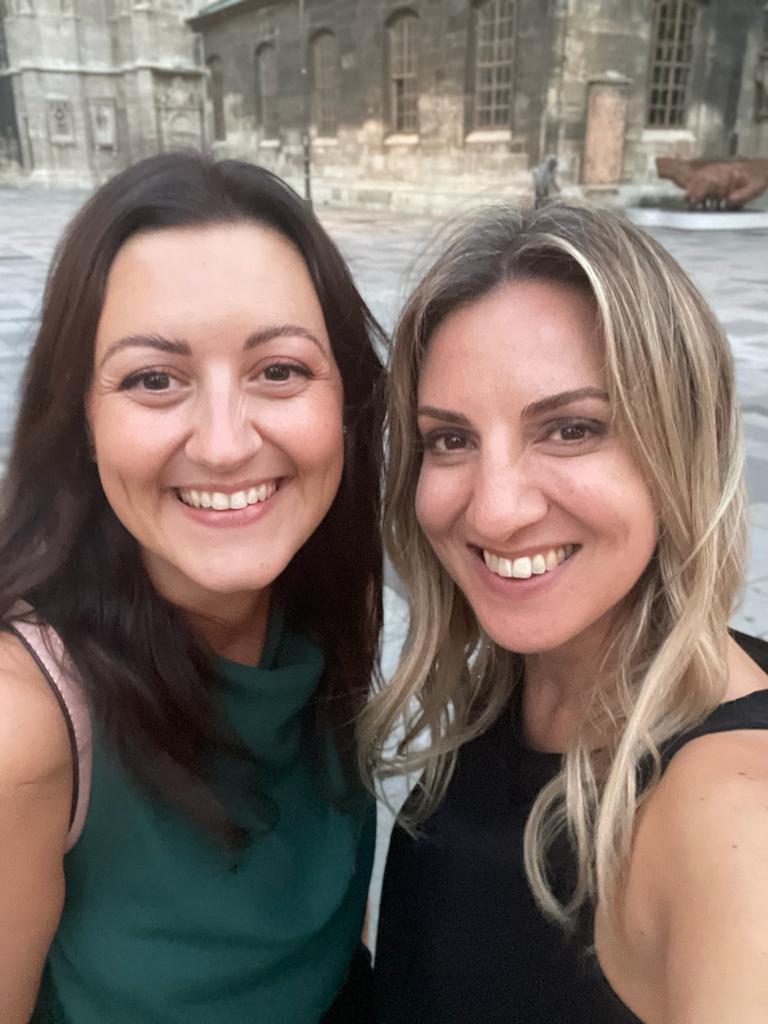 Roxanne, with a special interest in gynaecology and early pregnancy ultrasound, ended the day teaching about transabdominal pelvic scanning. The presentation format included a short lecture on the anatomy to be examined, tips and tricks to improve scan technique and an introduction to common pathology. The lectures were followed with live scanning demonstrations and an interactive question-and-answer session.
Brilliant opportunity
Ruth and Roxanne faced some challenges in preparing for these sessions as they were a novel idea and there was no precedent for the format of how they should be delivered. However, with any challenge comes opportunity and this was also a brilliant opportunity for them to make the sessions their own. Their next difficulty was deciding the level at which to pitch.
The sessions were designed to be introductory and, as such, were directed at beginners. But how basic is too basic when an audience predominantly comprises radiologists? What if there were technical difficulties during the live scan? To get around this, Ruth and Roxanne met the live scan models the day before and had the opportunity to check for normal and optimum anatomy – a privilege sadly denied to radiographers in real-life practice.
The conference learned during this session that no-one has better biliary anatomy than Gill Harrison, the SoR's professional officer for ultrasound, who found herself called up to the scanning couch during Ruth's live scan presentation.
Overall, the ultrasound sessions ran smoothly and received great feedback. After the sessions there were many questions from the audience, giving Ruth and Roxanne the opportunity to learn more about ultrasound practice in Europe. In many countries across continental Europe, ultrasound is performed solely by radiologists. In the case of gynaecological scanning, a radiologist will perform a transabdominal pelvic survey and, if pathology is suspected, will typically refer on for MRI. Unlike the mainstay practice of gynaecological ultrasound in the UK and Ireland, where sonographers undertake transvaginal ultrasound, patients in other countries across Europe must see a gynaecologist to receive a transvaginal scan.
Ruth and Roxanne were able to respond eloquently to all questions with confidence and the unmistakable evidence of their specialist knowledge.
Flying the flag
They say: "What was abundantly clear was that the audience members were passionate about learning – the status and role of the teacher was irrelevant. Imaging and radiology is a multidisciplinary specialism that works best with collaboration and cohesion.
"Breaking down hierarchies and building bridges is in the best interests of patient care. We were proud to be given the opportunity to fly the flag for British sonographers and hope that, someday soon, the same opportunities to develop ultrasound skills may become a reality for radiographers across Europe."