There are a variety of pathways to get to consultant practice. Some have described a tortuous journey, involving having to find their own funding, searching for training and having to fight every step of the way. I'm fortunate in that I've been able to take a far easier path - a job came up that included the necessary funding and support for training, including an MSc. I applied for it and was successful at interview.
I've been in the role for over three years now, having previously been a lead sonographer in another Trust which afforded me invaluable management experience. As a radiographer I had the same sort of experience as everyone else, rotated through modalities and the out of hours rota, and I was involved in a PACS implementation and running a PACS service for a few years prior to training in ultrasound.
It took me three attempts over four years to get onto the ultrasound training course due to its popularity at the Trust I was in, but I'm grateful for those extra years' experience as a radiographer as it's made me a much more rounded sonographer today. Whenever I talk about what I've done in my career I always temper it by adding that 'I've always been in the right place at the right time' to get the opportunities I have. That may be true, but you still have to take advantage of the opportunities you get.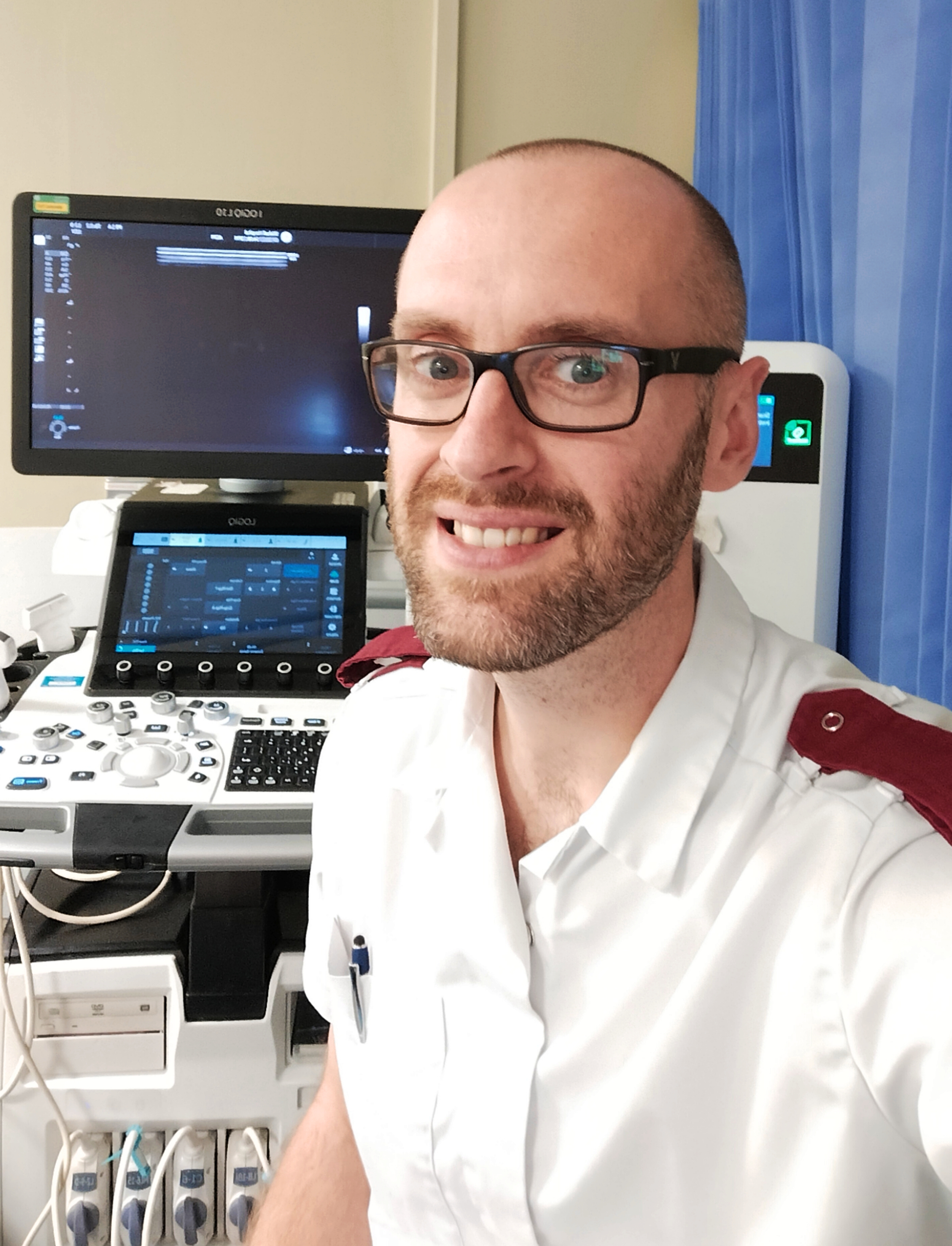 My consultant role is focused around head & neck scanning, included Fine Needle Aspiration (FNA). I was trained in this area by a radiologist and consultant sonographer, which involved performing 100 supervised procedures before being signed off to work independently. I maintained a record of my supervised procedures, and ever since I have retained a log of the procedures I've performed independently in order to audit my work to ensure I'm achieving the required standards. The radiologist has since left the Trust, leaving myself and my consultant sonographer colleague to run the head & neck service, which includes a one-stop neck lump clinic and attending the MDT. We are now training other radiologists to perform FNA.
Keep developing
I've tried to keep developing within the role. I also now perform FNA of axilla and groin lesions and recently performed my first supervised core biopsy and abdominal drainage. I'm working on a Patient Group Direction (PGD) so that I can administer local anaesthetic for procedures. This diversification of both my own and my consultant sonographer colleague's clinical skills, along with introduction of one-stop clinics, has improved diagnostic and treatment turnaround times for these patients which would normally have had to wait for a radiologist to perform these procedures.
Whilst I feel my clinical development is going in the right direction, the non-clinical side is more of a struggle, in part due to clinical pressures taking precedence over other activities. I've completed my MSc but am finding it more difficult than I had hoped to get the research published in a peer-reviewed journal. I keep setting myself goals before I can justifiably call myself a 'true' consultant practitioner. First was learning FNA, next completing my MSc, right now it's getting an article published, after that it will be developing the education side of the role. I may keep moving the goal posts for myself forever!
Imposter syndrome
Imposter syndrome is something I've struggled with in this role. This is loosely defined as doubting your abilities or feeling like a fraud, and is in part why I never feel like I justify the job title, despite what it says on my I.D. badge. Applying for, and being offered, the role of consultant sonographer felt like a massive achievement. For a long time I couldn't believe I'd got it, and to a certain extent I still can't, because I've never known what makes me stand out against other sonographers. Surely everyone knows what I know and, with the right training, is capable of everything that I do?
I try to turn things like imposter syndrome into a strength instead of a weakness. I have a wide range of competencies in ultrasound, I'm very confident in my ability as a sonographer and happy with my ability to make a decision or diagnosis and defend these robustly where necessary. However, it does keep me humble and stops me becoming overconfident. It never hurts to question yourself occasionally - I never want to get to the point where I think I cannot be wrong. We all make mistakes, we're all constantly learning and I think a healthy dose of imposter syndrome helps to remind me of this.
Two points I would hope to make from this are first, we can all have doubts no matter what stage we are at in our careers or how confident we seem; second, imposter syndrome is a great answer for the dreaded strengths or weakness interview question as it's a small weakness that can be easily turned into a bigger strength