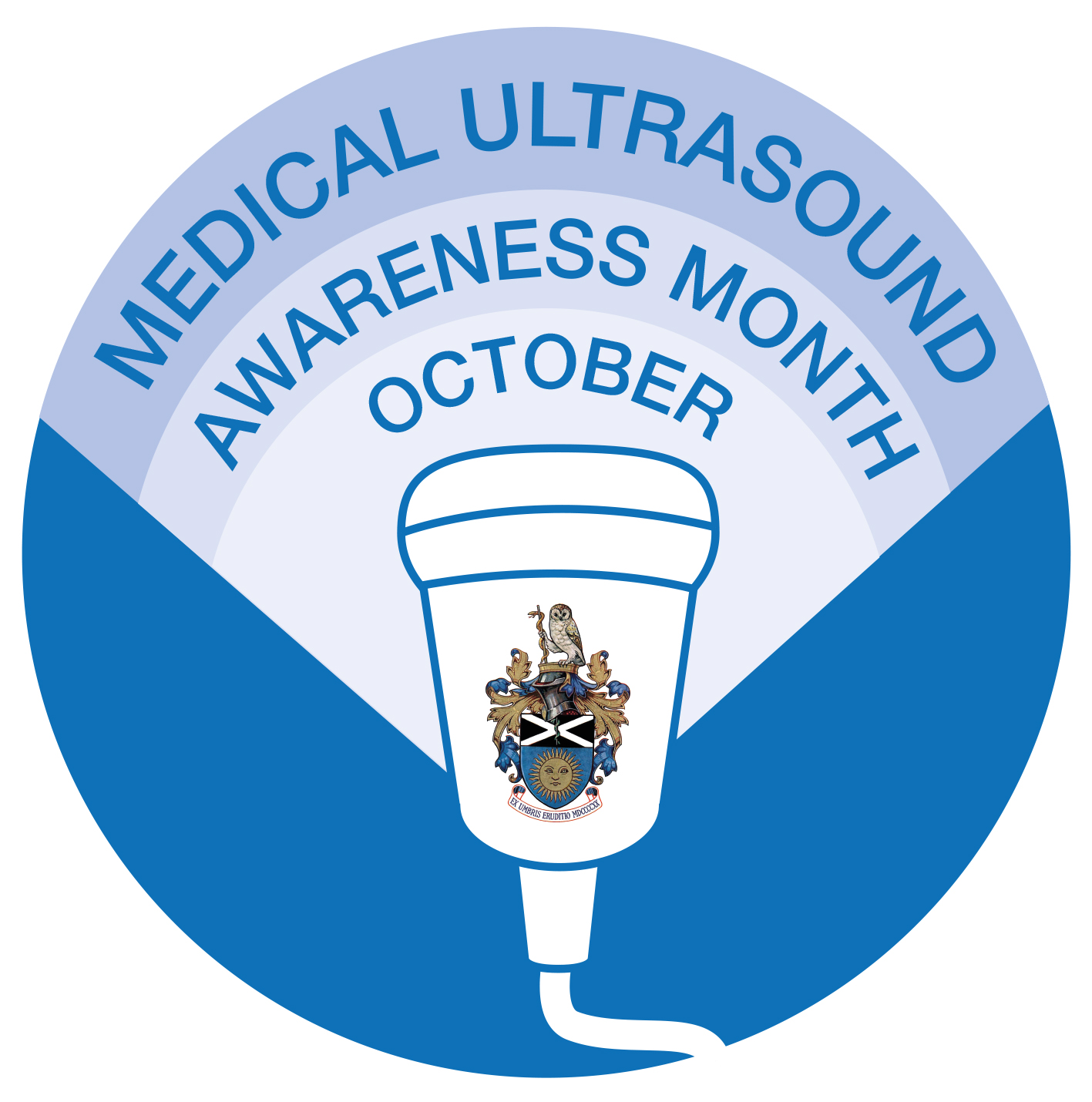 AUTHOR: NIGEL THOMSON, PROFESSIONAL OFFICER FOR ULTRASOUND
This is the first time that the Society has held an Medical Ultrasound Awareness Month. (October has been celebrated in this way in the USA for many years.)
One of our Ultrasound Advisory Group members thought it would be a good idea if we had a similar awareness raising opportunity in the UK to help raise the profile of ultrasound and so did we.
For the month of October we will be highlighting ultrasound news and stories and how sonographers contribute so much to diagnosis and treatment. It will be a month of celebrating all things ultrasound and we are very pleased that the British Medical Ultrasound Society are also participating.
As this is the first year we have run this event it will be a learning experience for all of us and we hope to develop further for next year. We would very much like to hear from you if you have any ultrasound related stories, successes, awards, or just general information that you would like to share. We will share as much as we can on social media.
To get the ball rolling I thought it would be worth publishing a list of the many documents the SCoR has published on ultrasound.
In addition, the annually updated edition of the SCoR/BMUS Guidelines for Professional Ultrasound Practice will be available for the 50th Annual Scientific Meeting of the British Medical Ultrasound Society in early December.

Section 1: Documents published by the Society and College of Radiographers and of particular relevance to ultrasound (as of 23 September 2018)
Generally In date order of publishing in the on-line document library
Archived documents are not shown (check box in doc-lib if needed to reveal on search)
1.1 Developing and Growing the Sonographer Workforce: Education and Training Needs November 2009

1.2 (see also 1.12) Ultrasound Examination Lengths Survey April 2012

1.3 Scope of Practice of Assistant Practitioners June 2012

1.4 Direct Entry Undergraduate Ultrasound Programmes (with competency to practise); a briefing from the Society and College of Radiographers September 2013

1.5 The recording of images during diagnostic imaging (including screening and radiotherapy) January 2014 (under review, new edition expected December 2018). Replaced two earlier documents relating separately to i) ultrasound and ii) other imaging modalities

1.6 Professional Standards for Independent Practitioners February 2014 (3rd edition) (under review).

1.7 Sonographer workforce survey analysis, 2014 June 2014

1.8 Work Related Musculo-skeletal Disorders in Ultrasound: Information/sources (2nd edition) October 2014

1.9 Standards for the provision of an ultrasound service (RCR/SCoR) January 2015
1.10 Ultrasound Training, Employment and Registration 4rd edition (Includes advice to service managers) Fourth edition published with additional advice on PII 7/15. Amended June 2017

1.11 Sale of images, determination of fetal sex and commercial aspects related to NHS obstetric ultrasound Second edition April 2015
1.12 Ultrasound Examination Times and Appointments (links with 1.2) First published March 2013 Revised with updated weblinks July 2015
1.13 Assistant Practitioners and ultrasound scans for fetal growth monitoring and assessment. A position statement. September 2015

1.14 An on-line survey of the social and commercial aspects linked to the two NHS fetal anomaly screening scans December 2015

1.15 Have you paused and checked? (Downloadable posters) April 2016

1.16 Intimate Examinations and Chaperone Policy (profession wide) May 2016

1.17 Clinical Imaging Board Advice and Guidance on Patient Identification September 2016

1.18 Guidelines for Professional Ultrasound Practice (Joint with BMUS) Revision December 2017 (First published December 2015, updated every year. Earlier editions in archive

Section 2: Society and College of Radiographers website articles specifically relation to ultrasound and not published in the document library
2.1 Why sonographers should maintain their registration January 2010 Updated December 2017
2.2 FAQs - Sonographers and HCPC registration Revised November 2015
2.3 Sonographer Registration Project Last update March 2017

2.4 Statement on 3D/4D 'entertainment' scans/CQC February 2012 Further advice published October 2016

2.5 Return to Practice - Ultrasound Second edition January 2016.

2.6 Terms associated with ultrasound education for non-specialists February 2015

2.7 Ultrasound news stories are automatically saved as they are published on the website Selected news items are also featured in the SCoR e-zine 'Top Talk'
For other ultrasound information, including advice and guidance from other organisations, click here.
Section 3: Awaiting publication, new edition or being drafted
New editions of 1.5 and 1.11 are being prepared, due December 2018.
Section 4: Health and safety documents
4.1 The Causes of Musculo-skeletal Injury Amongst Sonographers in the UK May 2002

4.2 Industry Standards for the Prevention of Work Related Musculo-skeletal Disorders in Sonography November 2006

4.3 Prevention of Work Related Musculo-skeletal Disorders in Sonography March 2007

4.4 Body Mapping: A Resource for SoR Health and Safety Representatives March 2007

4.5 VDU Regulations: A guide to dealing with health and safety issues arising from their use November 2010

4.6 General Health and Safety information

4.7. Risk Management of MSK Disorders in Sonography Work HSE March 2012

4.8 Stress in the Workplace - guidance and advice for the radiography workforce September 2013

4.9 Work Related Musculo-skeletal Disorders in Ultrasound: Information/sources (2nd edition) October 2014 (same document as 1.8)
Section 5: Selected SCoR documents of general important to sonographers
The first two documents (5.1, 5,2) are out of date order due to their key importance
5.1 The Scope of Practice 2013 March 2013

5.2 Code of Professional Conduct July 2013

5.3 Team Working in Clinical Imaging (RCR, SCoR joint publication). September 2012 (Under review)

5.4 Quality Imaging Services for Primary Care - A good practice guide (RCGP, RCR, SCoR joint publication) January 2013

5.5 Professional Indemnity Insurance

5.6 Raising concerns; guidance for SoR members March 2015

5.7 Obtaining consent: a clinical guide for the diagnostic imaging and radiotherapy workforce 2018

5.8 Patient, Public and Practitioner Partnerships within imaging and radiotherapy; Guiding principles 2018

Section 6: Public Voluntary Register of Sonographers documents
All updated following renewal in March 2017. Scroll down page to PDFs.

6.1 Standards of Conduct, Performance and Ethics
6.2 Standards of Proficiency
6.3 Policy and Processes
6.4. Letter
6.5 Fees Schedule
6.6 FAQs
6.7 PVRS audit requirement