What is mental health?
Mental health includes our emotional, psychological, and social well-being. It affects how we think, feel, and act. It also helps determine how we handle stress, relate to others, and make choices.
Mental health is important at every stage of life, from childhood and adolescence through adulthood.
Over the course of your life, if you experience mental health problems, your thinking, mood, and behaviour could be affected.
Many factors contribute to mental health problems, including:
• Biological factors, such as genes or brain chemistry
• Life experiences, such as trauma or abuse
• Family history of mental health problems
Like all health, mental health doesn't always stay the same:
• Mental health changes as life and circumstances change,
• Everyone has periods of feeling stressed,
• Periods of feeling frightened or low,
• Some people may recover from the changes in their mental health quickly, some may not,
A stigma still remains around mental health problems:
• In many cultures and societies it can be difficult and uncomfortable to discuss feelings and emotions,
• Identifying whether someone has a mental health problem isn't easy.
What are mental health problems?
Common Mental Health Problemsinclude:
• Anxiety
• Depression
• Mixed anxiety and depression
• Post-natal depression
• Obsessive compulsive disorder
• Phobias
Severe mental health problems include:
Psychosis: a mental health problem that causes people to perceive or interpret things differently from those around them. This might involve hallucinations or delusions.The two main symptoms are:
• Hallucinations:where a person hears, sees and, in some cases, feels, smells or tastes things that aren't there; a common hallucination is hearing voices
• Delusions: where a person believes things that, when examined rationally, are obviously untrue - for example, thinking your next door neighbour is planning to kill you
• The combination of hallucinations and delusional thinking can often severely disrupt perception, thinking, emotion, and behaviour. Experiencing the symptoms of psychosis is often referred to as having a psychotic episode
Bipolar disorder, formerly known as manic depression, is a condition that affects your moods, which can swing from one extreme to another. People with bipolar disorder have periods or episodes of:
• depression - feeling very low and lethargic
• mania - feeling very high and overactive (less severe mania is known as hypomania)
• Symptoms of bipolar depend on which mood you're experiencing. Unlike simple mood swings, each extreme episode of bipolar disorder can last for several weeks (or even longer), and some people may not experience a 'normal' mood very often
Schizophrenia:between one and 2.4 percent of people
Schizophrenia is a long-term mental health condition that causes a range of different psychological symptoms, including:
· Hallucinations, hearing or seeing things that do not exist
• Delusions: unusual beliefs not based on reality that often contradict the evidence
• Muddled thoughts based on hallucinations or delusions
• Changes in behaviour
• Doctors often describe schizophrenia as a psychotic illness. This means sometimes a person may not be able to distinguish their own thoughts and ideas from reality
Other types of mental health problems:
• Eating disorders
• Attention deficit hyperactivity disorder
• Alcohol and substance dependency

Early warning signs
Not sure if you or someone you know is living with mental health problems? The following feelings or behaviours can be an early warning sign of a problem:
• Eating or sleeping too much or too little
• Pulling away from people and usual activities
• Having low or no energy
• Feeling numb or like nothing matters
• Having unexplained aches and pains
• Feeling helpless or hopeless
• Smoking, drinking, or using drugs more than usual
• Feeling unusually confused, forgetful, on edge, angry, upset, worried, or scared
• Yelling or fighting with family and friends
• Experiencing severe mood swings that cause problems in relationships
• Having persistent thoughts and memories you can't get out of your head
• Hearing voices or believing things that are not true
• Thinking of harming yourself or others
• Inability to perform daily tasks like taking care of your kids or getting to work or school
Legislation:
Equality Act 2010 protects people from being discriminated against because of certain specific characteristics (Equality Act 2010 (does not apply in Northern Ireland, the Disability Discrimination Act and Northern Ireland Mental Health Order 1986 apply)
Protected Characteristics are:
• Age,
• Disability,
• Gender reassignment,
• Marriage and Civil Partnership,
• Race,
• Religion or belief,
• Sexual Orientation,
• Pregnancy and Maternity
• Mental health problems ARE covered by disability under the Act.
The Equality Act 2010 also protects people who have or have had a disability in the past. (This includes protection where they are perceived to have a disability or associated with a disabled person).
The meaning of disability and disabled Person
The Act provides that
A person has a disability if:
a) Person has a physical or mental impairment, and
b) The impairment has a substantial and long-term adverse effect on a person's ability to carry out normal day to day activities
A formal medical diagnosis is not always necessary, the Act does not define impairment but it can include the effects of or symptoms of illness. This includes the side effects of any medication, for example being very tired due to anti-depressants.
Substantial:means that minor or trivial tasks take much longer than it usually would to complete,
Long-Term: means that it likely to or have lasted for 12 months or more, this can included fluctuating or reoccurring conditions such as depression
Reasonable Adjustments:
An employer has a duty under legislation to make 'Reasonable adjustments' (Changes that make it easier for the disabled person). The Act does not provide a specific list of adjustments; However, The statutory Code of Practice suggests that adjustments can include:
• Changing equipment,
• Providing aids – including extra support and equipment,
• Changing the location of work,
• Changing policies and procedures,
• Allowing extra time off work,
• Allowing flexible working,
• Changing the role or parts of the workers role,
• Offering counselling or mentoring
When declining what is reasonable, an employer can take into account:
• The size of the organisation and its financial situation,
• The cost of making the changes,
• How helpful the adjustment would be to the individual,
• How practical it is to make the change?
The employer CANNOT charge the worker for the changes made.
Discriminatory Language and Mental Health:
We hear people using derogatory language which is offensive to someone who is dealing with mental health issues, to break the stigma, we must challenge and stop.
| | |
| --- | --- |
| Avoid Using | Instead Try |
| 'a Psycho' or 'a Schizo' | 'a person who experiences psychosis" or "a person who has schizophrenia' |
| 'a schizophrenic' or 'a depressive' | 'someone who has a diagnosis of/is currently experiencing/is being treated for schizophrenia/depression' |
| 'lunatic', 'nutter', 'unhinged', 'maniac', or 'mad'. | 'a person with a mental health problem' |
| 'the mentally ill', 'a person suffering from', 'a sufferer', 'a victim', or the 'afflicted' | 'mental health patients' or 'people with mental health problems' |
| 'prisoners' or 'inmates' (about people in psychiatric hospital) | 'patients', 'service users' or 'clients' |
| 'released' (from hospital) | 'discharged' |
| 'Happy pills' | 'antidepressants', 'medication' or 'prescription drugs' |
Workplace Policies:
Employers and trade unionsshould negotiate and implement a workplace mental health policy,
A good workplace policy should cover the following:
• Recruitment and retention: Encourages, supports and provides reasonable adjustments for applicants with mental health issues,
• Mental ill health discrimination: Clear definition of mental health and mental health problems,not limited to stress or anxiety,
• Links to other policies and procedures: e.g. Flexible working, disability leave, career breaks, grievances, disciplinary procedures, capability, sickness absence, performance management, substance abuse and dependency, dignity at work (Bullying and harassment), training and development.
Identifies how the mental health policy relates to other policies and procedures in the workplace, identifying how the employer supports people with mental health problems through these linked policies and procedures.
• Provision of some indicators of mental ill health: Signs that an individual may be having mental health problems. E.g. changes in an employee's usual behaviour,
• Promotion of good mental health well-being: Identifies the steps an employer will take to support and promote mental health well-being,
• Links to health and safety stress management policies: identifies how the policy relates to health and safety policies and procedures on work related stress, including reference to risk assessment and implementing control measures,
• The role of line managers: identifies the role of line managers in encouraging people to disclose mental health problems and their role in supporting people with mental health problems,
• Role of human resources: identifies the role of HR departments and staff including monitoring the effectiveness of the policy and linked policies/procedures in developing a mentally healthy workplace; this could include services through HR, such as occupational health or access to confidential counselling service,
• The role of SoR reps:(whether it be industrial relations, health and safety, learning reps) identified the important role that reps have within the workplace to promote mental health, support members, represent members and monitor the impact or workplace policies and procedures on mental health.
• The roles and responsibilities of employees:Clarifies that employees have towards each other on mental health issues, the could include specific roles for employees such as mental health first aiders,
• Commitment to promote awareness:How the policy will be promoted as well as how awareness and understanding of the policy will be shared throughout the organisation,
• A list of key contacts internal and external to the employer: who employees can contact in the organisation should they need advice or support as well as information about support within the local community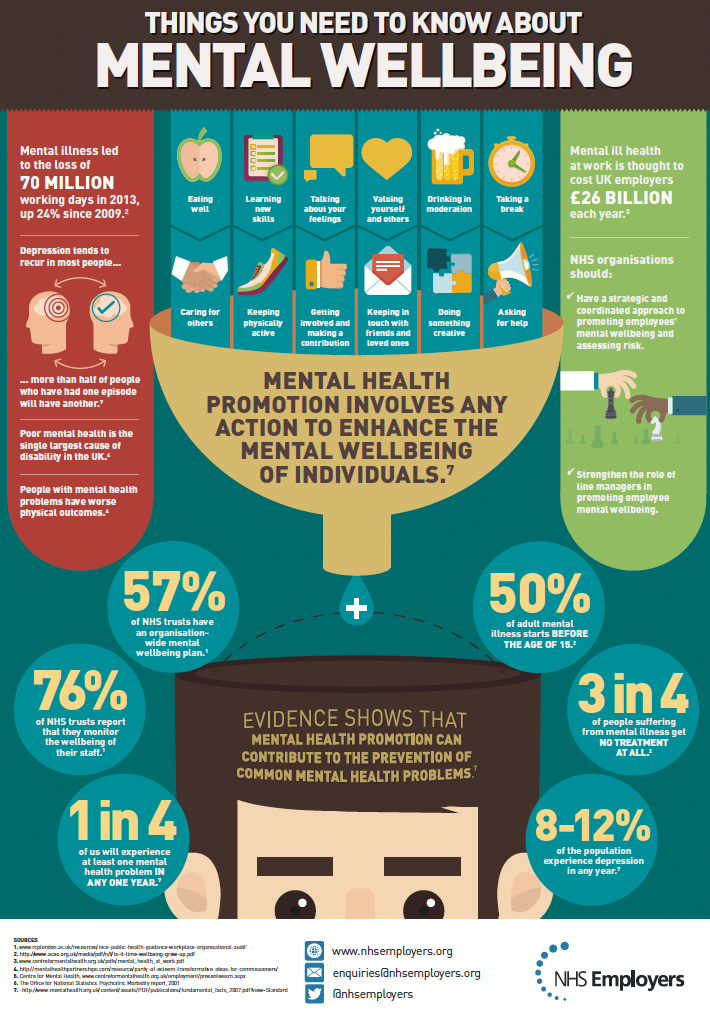 Further support:
Bereavement:
Cruse Bereavement Care
Telephone:0808 808 1677
Email: [email protected]
Web site: www.samaritans.org
Somewhere to turn when someone dies
Eating Disorders:
The Recover Clinic
Telephone:0845 603 6530
Email:[email protected]
Web site: www.therecoverclinic.co.uk
The Recover Clinic provides expert care and advice for those suffering with eating disorders, including Anorexia, Bulimia and Compulsive Overeating, and Body Dysmorphic Disorder.
LGBT Foundation:
Telephone: 0345 3 30 30 30 call any time between 10am until 10pm on a week day (excluding bank holidays and religious festivals).
Email:[email protected].
Web site: https://lgbt.foundation/about-us
LGBT Foundation, formerly known as The Lesbian & Gay Foundation (The LGF), is a national charity delivering a wide range of services to lesbian, gay and bisexual and transgender (LGBT) communities.
Mental Health:
Mental Health Foundation
Website: www.mentalhealth.org.uk
A charity that engages in research, campaigning and training programmes on mental health and learning disabilities.
Time to Change:
Website www.time-to-change.org.uk
A growing movement of people changing how we all think and act about mental health
Mind:
Telephone: 0300 123 3393 (9am-6pm Monday to Friday)
Email: [email protected]
Web site: https://www.mind.org.uk/information-support/
Mind provides confidential mental health information services.
With support and understanding, Mind enables people to make informed choices. The Infoline gives information on types of mental distress, where to get help, drug treatments, alternative therapies and advocacy. Mind has around 140 local Minds providing local mental health services.
Elefriends:
Website: http://elefriends.org.uk/
Elefriends is a supportive online community where you can be yourself. Elefriends is run by Mind.
If you're a carer needing support you can contact all of the above as well as Carers Direct and the Princess Royal Trust for Carers, both of whom are able to provide support and advice on any issues affecting you
Rethink Mental Illness Advice Line:
Telephone: 0300 5000 927 (10am-2pm Monday to Friday)
Email: [email protected]
Website: http://www.rethink.org/about-us/our-mental-health-advice
Provides expert advice and information to people with mental health problems and those who care for them, as well as giving help to health professionals, employers and staff.
Rethink also runs Rethink services and groups across England and Northern Ireland.
Saneline:
Telephone: 0300 304 7000 (6pm-11pm)
Website: www.sane.org.uk/what_we_do/support/helpline
Saneline is a national mental health helpline providing information and support to people with mental health problems and those who support them
Samaritans:
Telephone: 116 123 (24 hours a day, free to call)
Email: [email protected]
Website: www.samaritans.org
Provides confidential, non-judgmental emotional support for people experiencing feelings of distress or despair, including those that could lead to suicide. You can phone, email, write a letter or in most cases talk to someone face to face
Other resources